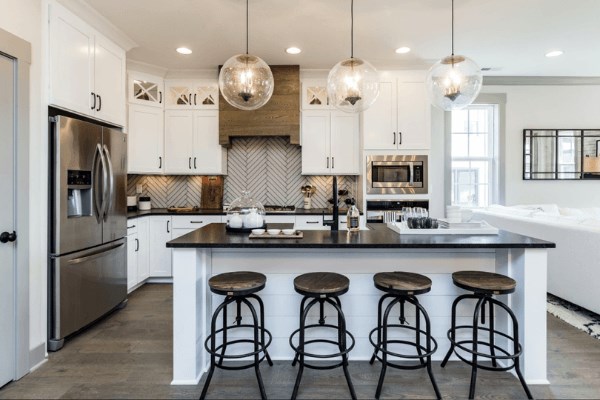 5 Eye-Catching Kitchen Trends for 2020
Looking to remodel or design your dream kitchen in Briar Chapel? We've selected five head-turning kitchen trends in 2020 to guide your vision. And if you're looking for a personal tour, our model homes feature each gorgeous design right here in Briar Chapel!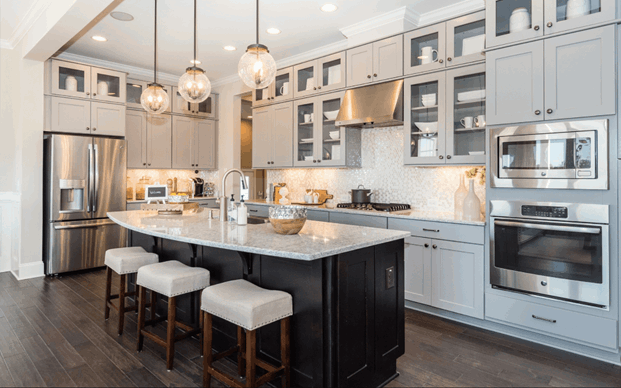 Matte Cabinets
Channeling the soft-modern style, the matte gray cabinetry in The Formosa, the David Weekley Homes model, drifts away from the classic white cabinet to something a little more next-decade. Matte cabinets add textural differences to an overall shiny kitchen and add a sleek look that brings sophistication up a notch for an eye-catching kitchen.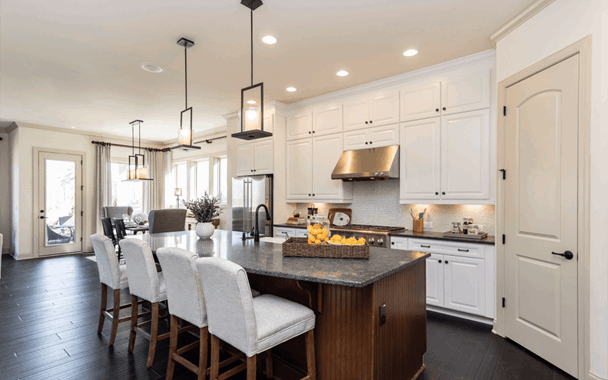 Wood and White
There's no denying that the combination of wood and white pair wonderfully in the kitchen. In this Encore by David Weekley Homes model home in Briar Chapel, The Tabula displays wood barstools and island beadboard that complement the clean white upholstered chairs and similar cabinet color.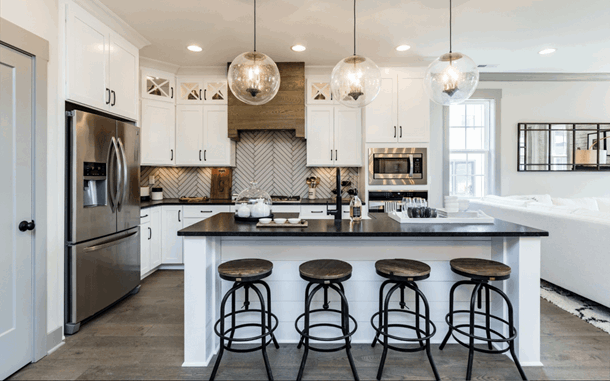 Tall Backsplash and Concealed Vent
Wave goodbye to exposed industrial vents and say hello to the urban touch of concealed kitchen vents! This wood-covered vent fits seamlessly between cabinet space and creates a homey vibe in the kitchen found in the Accent model home by Garman Homes in Briar Chapel. To bring variation into the kitchen space, the patterned backsplash uses the brown of the vent cover and the white of the cabinets to effortlessly elongate the wall for a distinct look.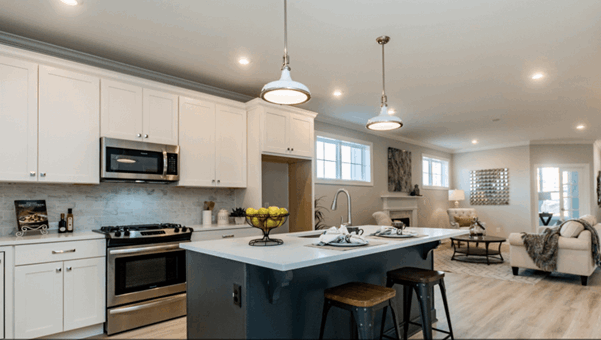 Natural Materials and Matte Black
Highlighted in The Oberlin model home by Homes by Dickerson, the 2020 trend of natural materials mixed with matte black elements displays the modern mood this combination creates. From the wood barstools at the matte black island to the granite backsplash, these natural elements pair with the matte black features to create an unexpected, eye-catching impact.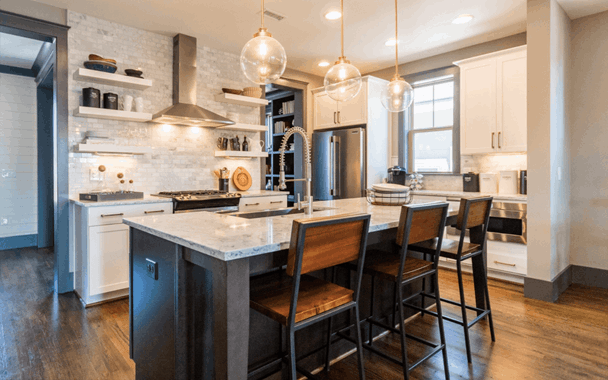 Vintage Vibes
Vintage kitchens seem to be a timeless trend that is ramping back up in the 2020 look books. The Ashburn model home by Saussy Burbank encompasses a vintage vibe kitchen by using globe lighting, structured wood-textured chairs and natural stone elements.
Want to see these beautiful kitchen trends for 2020 in person? Head down to our model homes or register to be a Resident for the Day here at Briar Chapel in Chapel Hill.