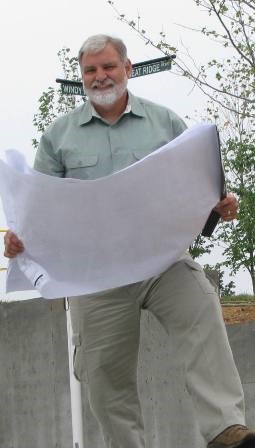 New Builders Expand Breadth of Home Offerings at Briar Chapel
Briar Chapel frequently has new and exciting information to share with you, and the addition of two well-known area builders is news we are eager to bring to your attention! We are pleased to welcome Homes by Dickerson and Morningstar Homes to the already stellar builder team building new homes in Briar Chapel. We hope you will enjoy some tidbits about the who, why and how and what makes these building companies who they are today. The personal interviews are in the words of the founding principles and today we are pleased to share with you an interview with Steve Jellicorse of MorningStar Homes, Inc.
What inspired you to become a home builder
In my senior year of college as chemical engineer major, I realized that what I had been doing for my summer job (Framing for a local builder) is what I really enjoyed. From that point, I secured a job with a major national builder and worked my way from construction manager to project manager and eventually to CEO of a public home building company. At that time I was overseeing the building of thousands of houses and then one day I realized, I wanted to get back in the dirt. I opened MorningStar Builders in 1998. In 2005, I had a discussion with John Lile, former EVP of another national builder who also wanted to get sawdust in his hair again, and we decided to open MorningStar Homes, building custom homes for more astute buyers in Raleigh, NC.
What is your favorite part of the home building process  
It's always meeting with our customers - the creative process of meeting with our customers, planning their home, building it and seeing their expression when we deliver their dream home. They are ecstatic and overwhelmed, and it feels good to deliver a product that brings so much happiness to our customers.  
Did you build your own home
Yes. I looked forward to experimenting with more historic details, interior and exterior. My wife was my client, so it was a fun project, and we love our home.
What is the one feature of the homes you build for Briar Chapel that you would most want in your own home but do not have
As I said, I love my home; it has a gourmet kitchen, hardwood floors, stained trim with historic features. All of that is great, but what I would really like that I don't' have is the spray foam insulation. This isn't an exciting feature, but it is probably the most effective, energy efficient and green technology that is available for rapid return on investment. Significantly reduces your energy consumption, both in the summer and in the winter. 
What are some of your favorite trends in home design
One of the things I appreciate the most is how the general public is beginning to be educated on historic design, inside and out, and beginning to really demonstrate demand for it. Form is important, and often form is function. Customers are more sensitive to the character of their home; it's not just a dwelling for them. It's almost like the customers we see are amateur architects.
What made you want to be involved with Briar Chapel
I did my due diligence, and I realized that Newland Communities has the financial structure to sustain this economic environment. Secondly, they really know how to design a community. It isn't just one narrow group they target; they offer homes that appeal to many different types of buyers and families. I really appreciated how they were integrating their land design to incorporate new urbanism and green practices. It makes for smaller lots, but makes the neighborhood much more livable.
What would you like people who have never visited Briar Chapel to know about your homes in this community
We are the Triangle's only Southern Living Magazine custom builder member. The vetting process is extensive, and this company would not lend their brand name to us unless our product and our customer service met their high standards. Our designs are distinctively Southern in Architecture and the interior spaces have been planned to meet our buyers' lifestyle needs and desires - owners' suite on the main floor, open floor plans and outdoor living. A MorningStar home in Briar Chapel will have the legacy of a custom builder permeating throughout the home, with all the details they've come to expect and a value that is unmatched in the area.
If you build it, will they come
(Laughing) Yes, I hope so. The feedback we have received from recent customers is that these plans are exciting and they love the community, so yes, we feel if we build quality homes, they will come!
Thank you Steve. The process of building a home is a very personal experience and should be rewarding in the end. We would love to hear about your previous homebuilding stories - let us know what your builder did to make your house a home!
We welcome you to our home(s) at Briar Chapel - come visit us soon...