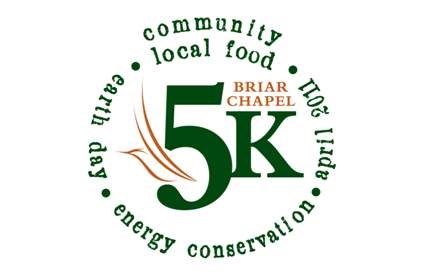 2011 Earth Day Extravaganza & 5K Run
Tami Schwerin, Executive Director
The Abundance Foundation
Preparations for the 3rd Annual Earth Day and 5K run at Briar Chapel are in the works!  April 16th from 9-4pm everyone can find something that they'll want to be a part of…we start the day with a 5K race through Briar Chapel.  Directly after the run, we'll have a kids fun run and awards and refreshments. Folks will receive a beautiful, locally made organic T-shirt from award winning TS Designs.
Special thanks go out to our sponsors: Briar Chapel, The Chatham Marketplace, Angelina's Kitchen, Kimley-Horn and Associates, Inc., The Bean and Barrel, Southern Energy Management, and Home Performance NC. 
From there, we'll be bringing in chefs that are focusing on seasonable and local foods. The 3 Chefs from the Chatham County Schools Challenge will be cooking and can discuss their time with the school system and 8,000 kids! In addition, we'll also have uber-local Angelina's Kitchen, Saxapahaw General Store, Busy Bee Cafe and the Bean and Barrel. 
From 1-3 there will be a green scavenger hunt.  Only Briar Chapel would think of this! And everyone loves a scavenger hunt…I'm not sure what to expect, but it will be fun!
Then, folks can retire out to the garden….(said in a southern drawl). The residents of Briar Chapel created a community garden and we'll have Farmer Doug Jones (award winning farmer and seed saving pepper man) to discuss gardening tips and seed saving information. The Briar Chapel Green Thumb committee is having a "pots for tots" educational event under the big tent for the kids while the adults sip on samples of Full Steam Brewery's El Toro Cream Ale, Fullsteam Southern Lager and my favorite; Rocket Science IPA. (pints for sale as well!)  Abundance will be there with bells on and can discuss our latest projects, show you some worms, and talk to your about our workshop series and kids camps!  Lastly, I'm so excited to have Jonathan Bloom, author of American Wasteland under the tent. McIntyres will be on hand to sell his books and he will sign for you on the spot! 
It's going to be such fun and if you love this earth that you live on, you will not want to miss the celebration. Hope to see you there!