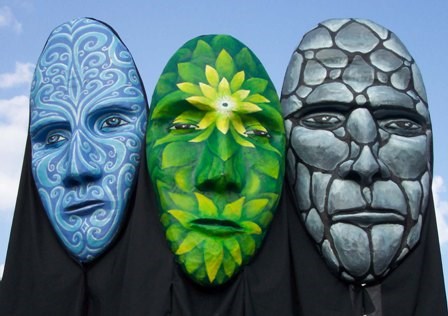 Earth Action Day - Celebrate Sustainable Living
Along with the Earth Day Festivities at Briar Chapel the weekend of April 17 - 18, we are excited to be raising awareness around living sustainably with the Town of Chapel Hill and other local businesses during Earth Action Day  April 10th. We have invited Wes Tilghman, Supervisor of Festivals and Community Celebrations with the Town, to share his perspective on this important event and its impact on community awareness.
Q:  Do you find the immediate community has a greater awareness about living green in general
A:  It's interesting to learn just how many organizations support this event and the cause. We have a very diverse collection of exhibitors and demonstrations scheduled for Earth action Day. A few of the most interesting includes, Piedmont Wildlife Center, The UNC Sustainability Office, Solar Tech South, and Briar Chapel of course.
Q:  How does the Town of Chapel Hill encourage or communicate the importance of sustainable living or environmental stewardship Is this a component more widely recognized in the daily business practices of the Town
A:  Earth Action Day is an extension of the Town's efforts to be more sustainable. Earth Action Day, as the name implies, encourages patrons to learn and share sustainable actions we can all make a part of our daily lives. The Town of Chapel Hill is committed to the sustainability of our community. Qualified as a Sierra Club "Cool City" by the U.S. Council of Mayors, we have set a goal of reducing carbon emissions 60 percent below 2005 levels by 2050. In 2007, the Town formed the Sustainability Committee, to be made up of citizens interested in developing a sustainability plan for the community and carrying out education and outreach activities. The Town's Sustainability, Energy, and Environment (SEE) Committee is made up of Council Members who develop and support sustainability policies and programs. We are also committed to purchasing environmentally sensitive products, including biofuel and hybrid vehicles for our municipal fleet. We've ensured that all Town buildings built after 2005 are outstanding examples of sustainable building practices, such as those prescribed by the LEED "Silver" certification program. A good example of this is the Town Operations Center, which opened in September 2007.
Q:  What steps did you take in reducing your carbon footprint in planning for the Earth Action Day Celebration on April 10th
A:  There are four distinct measures we have taken to reduce the impact on our environment. Firstly, we are working closely with Orange County Solid Waste Management to divert all trash from the landfill by composting and recycling up to 98% of the waste generated by the event. Secondly, our main stage and Swap-O-Rama-Rama clothing swap are both being powered by solar power with the support of our friends at Solar Tech South in Chapel Hill. Thirdly, a free event shuttle will be provided with stops at Eastgate Shopping Center, University Mall, Downtown Chapel Hill, and on UNC's campus, to encourage patrons to take the shuttle rather than driving to the event. Fourth, we are working with Advance Water Systems, and their Blue –Green Machine, a mobile water filtration system, to provide purified water to our patrons and staff, rather than rely on bottled water.
Q:  What have you learned from your involvement with various businesses as you prepared for this and other events about sustainability and "going green"
A:  There are many passionate and very knowledgeable people in our community, and surrounding areas who not only care about our environment, but who are willing to make the commitment, and even in some cases, the sacrifices, to live more sustainably, whether that means, environmental preservation, social equality, or supporting the local economy. While centered on preserving our natural resources, sustainability is more than an environmental movement. It can also include supporting local business, and the employees they employ, as well as the local economy, or creating social equality for our community, where we all have a vested involvement. 
Q:  As you may know, this is the 40th anniversary of Earth Day. In celebration of this day, can you share what things you do either in your community event planning or at home to "go green"
A:  I personally can hang my hat on the amount my family recycles. In many cases my recycling at home outweighs my trash, 2 to 1. Earth Action Day is only in its third year, however, planning an event like this, really gives the town of Chapel Hill another platform for not only promoting Earth Day, but an opportunity to help make this community more aware of the many possibilities that exist for taking their own stand in the important cause.
Thanks Wes, we look forward to seeing you on April 10th for Earth Action Day and joining us the weekend of April 17 – 18 at Briar Chapel for our Earth Day festivities. We encourage you all to join the fun in and around the community for these special events. To learn more about Briar Chapel's Earth Day events, please visit us at www.BriarChapelNC.com/EarthDay and for more information about Town of Chapel Hill events log on to www.townofchapelhill.org/earthday.