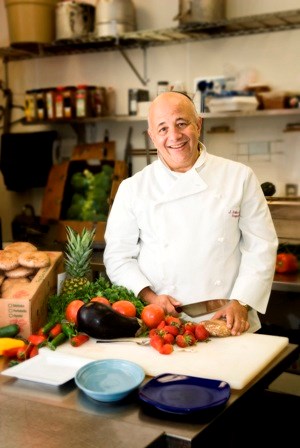 Celebrity Chef Perspective: Arthur Gordon, The Irregardless Cafe
We have been enjoying our conversations over the past couple weeks with our local partners, restaurants, educators and friends and their viewpoints on sustainability - we hope you have too! Today we are pleased to bring you the thoughfulness of Chef Arthur Gordon whom has been providing great food and atmosphere for the past 35 years at The Irregardless Cafe in Raleigh.
Q:  Tell us a bit about what it's like to be the chef at Irregardless Cafe…
A:  In French, the word chef means chief, so it's a real pleasure to be the chief, the head, the operating honcho of a group of people who are like-minded. I like to think that Irregardless Café is an oasis in Raleigh – no TV, live music, fresh food – and to be able to provide this to the community at large is a real honor. This concept is the vision I had 35 years ago, when I began Irregardless, and it's a real blessing to see it realized.
Q:  When did you know you wanted to be a chef
A:  From an early age. When my mom and dad got married, my mom said to him, "I'm going to be good in one room in this house, you pick it." So, as a dysfunctional family, I learned how to cook. Dad was happy, and I learned to cook. French toast was my forte. We grew up in Durham, and we owned a ladies dress shop, where dad bought the clothes and mom sold them. You see the room dad picked was the dress shop – see, it wasn't what you were thinking.
Q:  Where did you start your career as a full-time chef
A:  In 1972, I graduated from UNC, and I wrote to the Culinary Institute of America, the CIA, about coming to be trained as a professional chef. They wanted everyone to have at least one year of experience first, so I thought I'd open a restaurant for a year or two. Well, I haven't gotten to cooking school yet. I started here in 1974. I built the building by converting it from a laundry into a restaurant, and I just kept expanding over the years. In 1994, we had a fire, so when I rebuilt, I made the kitchen as large as the dining room. I figured if I was going to spend my life in that kitchen, I would make it big, and it's worked out well. It's allowed us to be able to have a catering business, and not bog down the kitchen that's also serving the dining room.
Q:  Why is it important to you to use local ingredients
A:  It just makes sense on every level I can think of. First the ingredients are a lot fresher. Organic ingredients are good to use, because you know they were grown free of pesticides and chemicals, but you may not know where they come from. The longer the distance from picking to table, the more the produce loses valuable nutrients and taste. We try to get produce, cheeses, meats and flour within a 30 mile radius.  Second, the food tastes better because the person producing the food really cares about it, and I'm a big believer that the customer doesn't necessarily care about the words you put on foods, but they care about the taste, and using local ingredients makes the food taste so much better. Third, it helps the local economy. The most important person in the food chain is the farmer. I've evolved as a business man over the years with this in mind. I used to haggle prices with farmers – I like to haggle a lot – but now I understand that those extra few dollars may keep that farmer in business, and so it means a lot more to him. I also used to buy in bulk – I would buy nine cases of sweet potatoes to get a better price – but now I realize that fresh foods need to be eaten when they are fresh. That tomato you enjoy needs to be eaten the day or the day after it's picked, and no later. So buying local just works. These are things I think about with local products and local foods.
Q:  What is the most popular dish served in your restaurant that is made from local or organic ingredients
A:  Probably our warm goat cheese salad. We get the goat cheese from Celebrity Dairy in Chatham County. It's really just spectacular cheese.
Q:  What is your favorite thing/ingredient to buy local and where do you get it
A:  Well I mentioned the cheese from Celebrity Dairy, but right now the longest thing we have used – and maybe the best – is flour from Lindley Mills in Graham, N.C. It's probably twice as expensive as flour from the big guys, but we have been using it to make our whole wheat bread for 35 years, and you can just tell the difference. I think any restaurant's signature is the bread, and so we use flour that is locally grown, locally milled – by hand at that – and it shows. You know everyone these days is talking about healthy eating, and that includes whole grains. Well, you can come to Irregardless, have a fresh salad and some of our whole wheat bread, and you've accomplished a well-balanced meal. So yes, Lindley Mills is the longest, most consistent local relationship I've had.
Q:  What can we expect to see from you at the Briar Chapel's Earth Day Celebrity Chef Charity Event on April 18
A:  We'll be doing a breakfast nacho, featuring local Johnston County potatoes and eggs from Chatham County. We'll also be doing some assorted salads, with our signature lemon tahini dressing. We're starting to do a weekday breakfast this month, so we'll be giving everyone a taste of those new menu items.
Q:  What advice can you offer to Triangle residents who would like to incorporate more local produce, meats and poultry into their at-home cooking
A:  Well, the most obvious and definitely easiest thing to do is to join a co-op, where you put the money upfront. This way, the farmer knows what he's getting, and then when the products are ready you get your share. This also forces you to get creative with the ingredients. That's the other thing I recommend – don't be so rigid with your recipes. Try to move things around. Don't look at a recipe to determine what you need – look at the ingredients you have and then determine what you can make from them.
Q:  As you may know, this is the 40th anniversary of Earth Day. In celebration of this day, can you share what things you do (beyond cooking with local ingredients) either in your restaurant or at home to "go green"
A:  Here at Irregardless, we are intentionally separating our scraps, so that we can send all of our edible scraps to a pig farmer in Wake County. And then you see, I have a Jewish dilemma. He asked me if I want a free ham! But really, it's funny the pigs get extremely excited when they see our truck pull up.
Q:  What charity will you be supporting through your participation in Briar Chapel's Earth Day Celebrity Chef Charity Event
Thanks Chef Arthur, we look forward to seeing you on Sunday, April 18th from 1-4pm. We will be accepting donations for the Abundance Foundation in the Vanguard model home in honor of Chef Arthur. To learn more about our Earth Day events, please visit us at www.BriarChapelNC.com/earthday