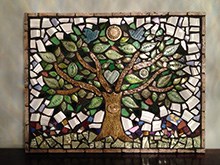 Know Your Neighbor: Gina Boyle
Cali Burhrman
Customer Relations
After relocating to North Carolina in 2011, Gina Boyle decided it was time to finally get her hands dirty and create the art that had been swirling around in her head for a very long time. After spending many years painting children's furniture and wall art, she fell in love with a new medium: mixed media mosaics.  She set up camp in two separate studios, one in Carrboro and one at her home in Briar Chapel, and can usually be found there, taking seemingly unconnected pieces (tile, texture, quotations, watches) and turning them into, well— a work of art.
Not only does Gina call Briar Chapel home, but the community is also a source of inspiration for her mosaics. "I love the clean lines of Briar Chapel, and attention to detail. Everything is extremely cohesive and evokes such creativity in me. When I go on the trails, I will actually pick up branches, twigs, and leaves and press their textures into tiles." With over 900 acres of open space, Briar Chapel is an ideal place to feel peaceful and influenced.
 "I hope that the words and ideas in my mosaics encourage "big talk".  The kind of talks and discussions that happened at 3am with your college roommate, when it was dark and everyone would just say what they carried inside.  I think big talk is the only talk that matters." 
Gina will be featuring her artwork at the Briar Chapel Information Center in the 2015 Chatham Arts Guild the first two weekends in December, where you will be able to shop her collection, watch a live demo, and get to know more about her work.