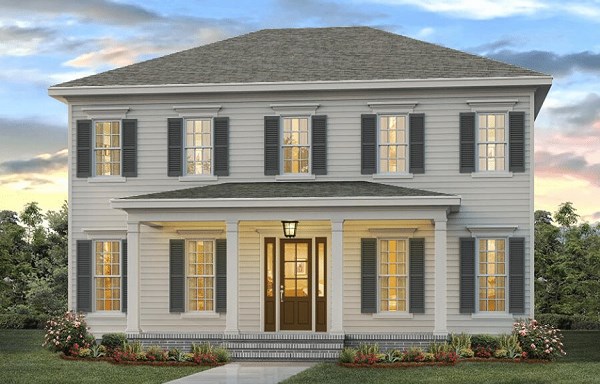 Builder Spotlight: Homes By Dickerson
As a custom homebuilder, Homes By Dickerson offers special design features in its high-performance, energy-efficient homes at Briar Chapel. Homes By Dickerson is committed to creating a better tomorrow; in fact, the company is a leading builder of green-certified homes in the Triangle.
What makes Homes By Dickerson so special to the Briar Chapel community?
The flexibility of customization 
"Our biggest thing is flexibility, we're a custom builder that can build homes according to our buyer's wants and needs," said Peter Winkler, community sales manager, Homes by Dickerson (HBD). 
With Homes By Dickerson, clients have the flexibility to completely customize homes themselves or choose from one of the many beautiful homes in the HBD inventory. Additionally, HBD caters to a wide range of price points by offering homes ranging between 1,900 and 5,000+ square feet. 
"Not many builders can build homes across that broad of a price range," said Winkler. 
Support every step of the way
HBD's building process includes built-in touchpoints of communication to make sure that home buyers are supported every step of the way. From interacting with the sales team, building team and design team, buyers can share their input throughout the building process. 
"If clients build with us they have one-on-one appointments with designers who work with them to achieve the look they want in a home. They aren't sent out all over town on their own and have lots of options to choose from," said Winkler. 
This support throughout the home building process can especially help first-time homebuyers and residents moving from far distances to not be overwhelmed. 
A home for every stage of life 
Homes by Dickerson prides itself on being a builder for every stage of life. Briar Chapel also provides opportunities for residents in many different stages of life to come together by offering varying price points and home styles. 
"Not many communities accomplish three generations of people coming back and living together as a family like at Briar Chapel," said Winkler. 
In addition to the many families at Briar Chapel who have moved into the community together, several residents have built multiple homes with HBD.
"There is someone building their second home in Briar Chapel right now who we built a home for 15 years ago," said Winkler. 
While Homes By Dickerson has only been around for the past 45 years, several residents choosing to build their second homes with HBD is a testament to the quality and performance of the homes.
Learn more about Briar Chapel and its Homes By Dickerson offerings today. 
---
Located in Chapel Hill, North Carolina, Briar Chapel offers new homes from the $300,000s. Explore Briar Chapel's resort-style amenities, parks, trails, shopping and on-site schools, a community that has been named Best Neighborhood in Chapel Hill for five years running!