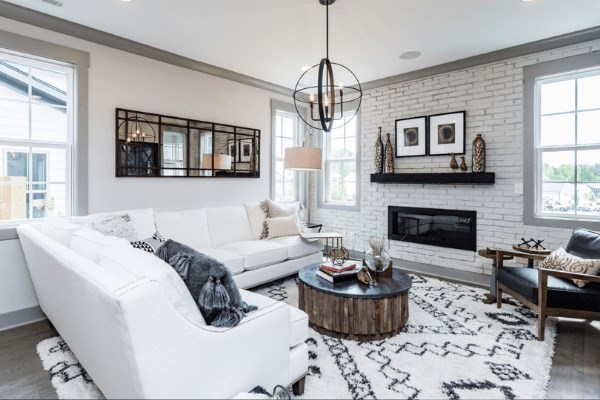 5 Hot Living Room Trends in Briar Chapel
Looking for hot inspiration to decorate your soon-to-be home here in Chapel Hill? We've researched and curated some of the most popular living room trends for 2020. Here are our "fave, fabulous five" tips from Briar Chapel to design your home's main space.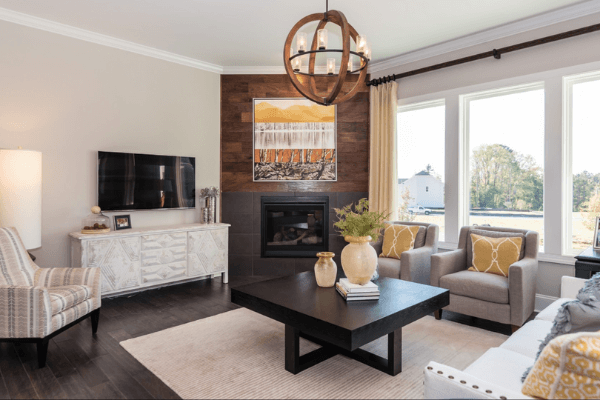 Mixed Materials
Break up your neutral, peaceful color scheme with mixed materials to add depth and texture to your roomscape. Seen in the Formosa model home by David Weekley Homes in Briar Chapel, the living room features a wood and stone fireplace, wood light fixtures, a dark wood coffee table and a granite-inspired media piece.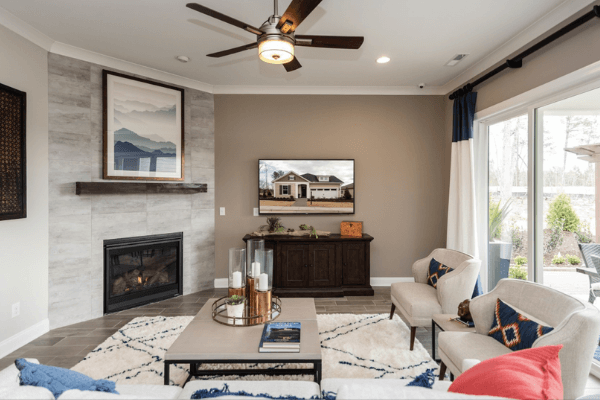 Southwest and Slipper
Indulge in a warm, earthy vibe that adds a splash of color and cheery texture to your space. Living rooms are popping with southwest-inspired prints, as seen in the pillows, rug and painting, and easy-going slipper furniture (the armless chairs). The Wakeford model home from Encore by David Weekley Homes in Briar Chapel nails this comfy-meets-chic vibe.
Natural Light and White
Natural light and white are like a match made in living room heaven. The windows and mirrors in the Accent model home by Garman Homes in Briar Chapel amplify the natural light, while the white balance mixed with the natural materials of the coffee table, brick wall and décor complement the calming ambiance. Another hot living room trend to inspire design ideas!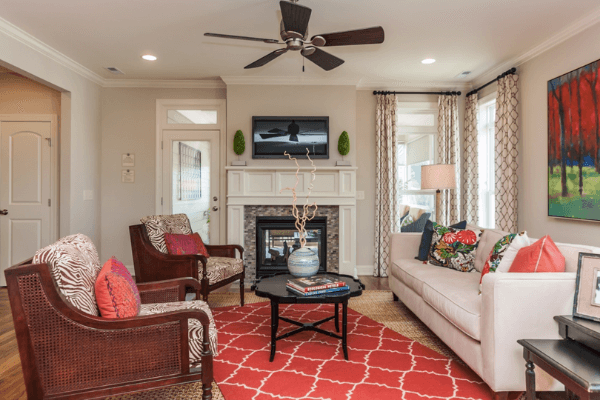 Layered Rugs
Ditch the squared, symmetrical décor of years past. Layering textures and patterned rugs liven up the living room where one centerpiece rug doesn't always pack the same punch. This technique adds a casual element to a curated room, as seen in the Franklin II model home from Homes By Dickerson in Briar Chapel.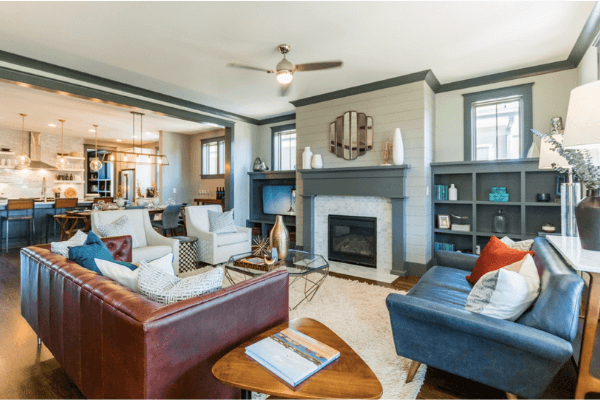 Maximalist
You've likely heard of the minimalist trend, but living rooms have recently been channeling something quite different: maximalism. Take the opportunity to show off all of your large centerpiece treasures complemented by occasional delicate trinkets; showcase them on shelves or perched on side and coffee tables. Mix colors and include large eye-catching favorites, such as plants, vases and bulky furniture. Displayed in the Ashburn model home by Saussy Burbank in Briar Chapel, this imperfectly perfect maximalist trend is worth a try.
Looking to design more of your home? Check out our blog on eye-catching kitchen trends for 2020, inspired by our model homes in Briar Chapel.