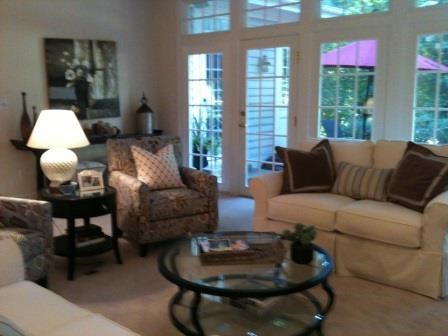 Faux Home
Jami Pearson
Marketing and Event Coordinator
Whether scrolling through Pinterest or scouring the pages of Southern Living, it's only a matter of time before you come across some sort of 'how-to' in regards to choosing the paint colors for the walls of your home or the perfect fabric for your living room. But lets be honest, no color chart or list of 'helpful hints' can take the place of honest-to-goodness, one-on-one advice, right? Right.
Luckily, Chapel Hill based business Faux Home has your back. Offering color consultations and faux finishes along with interior design and home staging services, they cover the decorating gamut, which is why we're so happy to have them participate in our home décor-themed open house event January 25 – 26. When I first met with the ladies of Faux Home to discuss their services, they made it clear that they're not just the people you call when completely redecorating your home (but they definitely wouldn't complain if you did!); they also help clients work with what they already own to create an entirely new look.
So you mean I don't have to buy all-new everything for my house to look nice?! Oh, they're good.
At our upcoming open house, representatives from Faux Home will be stationed at the Briar Chapel Information Center Saturday, 12 – 3 pm and Sunday, 3 – 5 pm, dishing out advice to visitors. Come anytime these two days between 10 am – 5 pm to enter to win one of the two three-hour consultations with these decorating gurus and to tour 55+ move-in ready homes.
See you soon!