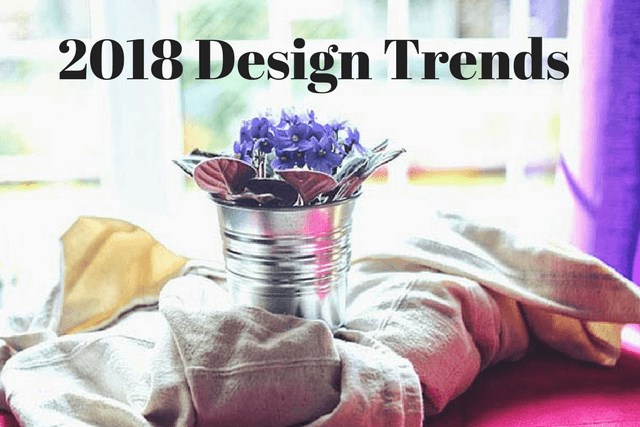 Six Design Trends for 2018
A new year brings new décor trends. As you're curating your new home with one of our seven award-winning builders, take a gander at these hot trends, from to textiles and textures to surprising splashes of color.
Monochromatic Spaces
In the search for simplicity, designers have begun layering tones to create a monochromatic scene. Visual variation appears through lighter and darker color iterations and texture differences. But don't just think of natural woods or earth tones! Monochromatic aesthetics can also highlight bold hues accented by layered textures.
Violet Voila!
It's official. Pantone named Ultra Violet the 2018 color of year – a hue that Country Living describes as a "celestial shade of purple, veering toward the cooler end of the color spectrum, that calls to mind the vastness of the galaxy." While perhaps not traditional, Ultra Violet is surprisingly accessible. Utilize it as a backdrop, an accent or even to inspire your monochromatic spaces. (See above!) See Pantone's own recommendations for complementary color palettes.
A Little Pop Here, A Little Pop There
Each year unveils a fresh way to add zest to interior decor. This year, we're exploring statement ceilings, bright ideas – like these bold lampshades -- and wrapping the room in colorful trim.
Back in Brass
Stainless steel is once again stepping aside to make room for warm brass tones. Everything from snippets of sheen on cabinetry handles to statement credenzas showcase the golden glow of brass. However, designers do suggest that brass be used as an accent, adding an air of elegance without turning the room into a gleaming museum.
Plush Panache: Velvet
Furniture and textiles alike will feature velvet. This multidimensional fabric can evoke both images of luxury and grandeur as well as a modernist atmosphere. Check out the ways to incorporate velvet into your décor!
Wabi-Sabi
An opportunity to embrace imperfection! Wabi-Sabi is ancient Japanese worldview that cherishes impermanence, irregularity and simplicity, seeking to bring zen to the living space. While not cluttered or messy, the style offers a curated aesthetic with natural textures, found materials and natural colors.
Looking for inspiration for design ideas? Reach out to one of our homebuilders or visit our marvelously decorated model homes at Briar Chapel!