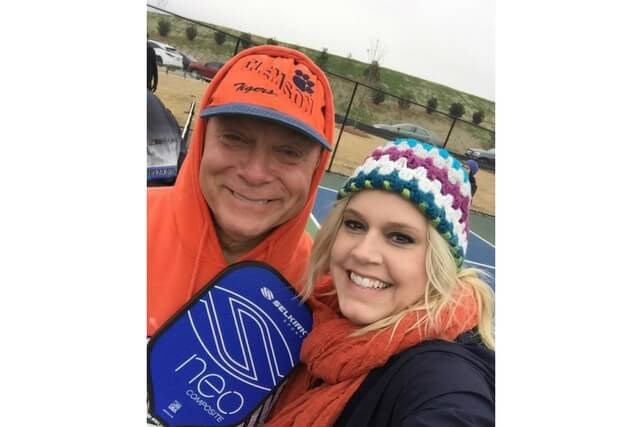 Primed for Pickleball
Spin, slam, slice. These are just three of the strategy shots for pickleball, a game that combines agility with smart placement. Similar to tennis but played with a whiffle ball, the game calls for strong serves and quick reflexes. These skills have become especially important to residents in Briar Chapel, who are excited about the new sports complex featuring pickleball, tennis and basketball courts. One resident, Alan Rosenfeld, has his eye on those pickleball courts.
After receiving an invitation from a Chatham County resident, a large Briar Chapel group began traveling to Pittsboro to learn the game on Tuesdays and Thursdays. Alan and his friends grew to love the new challenge, and the ritual trips quickly became a treasured tradition.
"I really enjoy playing and have a ton of fun with it," Alan said. "I've gotten to meet a lot of different people. When you arrive, everyone stacks four paddles on a court, and then you play with whomever your paddle touches."
But to Alan, pickleball is more than a game. Since Briar Chapel is continuously growing, the complex can provide a central location and social hub to strengthen the Briar Chapel community and foster relationships. He's hopeful that players can start a league where partners compete to win games and host tournaments. Though Alan and his wife came to Chapel Hill to retire, he's found that pickleball unifies fans from teens to retirees.  
"It's not true at all that only oldies play pickeball," Alan laughed and said. "It's for everyone; there are plenty of people of all ages that play with us."
More than anything, Alan is grateful that Briar Chapel has become his home in just seven short years. The neighborhood stays active together, enjoying activities like Bocce ball, golf, swimming, and outdoor concerts. These outings created lasting friendships.
"It was the amenities and neighbors that convinced us," Alan said. "And because of the organized barbeques and sports, now some of us have been buddies for close to seven years."
But does he still want to beat his friends on the pickleball court?
"You bet I want to win," Alan said. "We've all gotten a lot better, so I'm thinking it's going to be competitive."
We can't wait to see what happens.