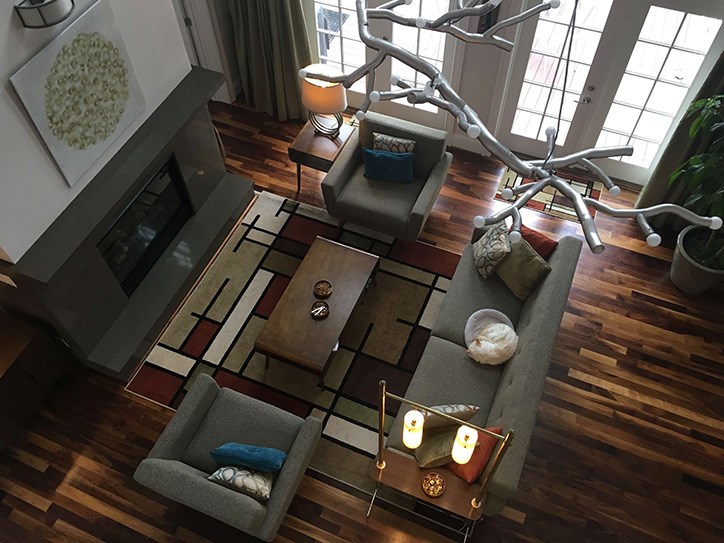 Creating a Multigenerational Haven
Kids playing in the living room. Parents and grandparents sharing a laugh at the kitchen island. Darren and Judi Oleski finally found the perfect haven to fit their whole family. Spacious yet cozy, their Briar Chapel abode exudes warmth and welcome.
But who would have thought that the Oleskis' home wasn't a home at all? 
It all started with an eccentric suggestion from a friend as the Oleskis were house hunting in Briar Chapel. What about the Briar Chapel Information Center? The lease would eventually end, and Briar Chapel would move its headquarters to a new structure, leaving the building vacant. Judi balked. A former information center as her dream home?
Judi also shouldered some special circumstances. Not only did she need space for her children (and future grandchildren), but her home had to accommodate her aging parents. In addition, Judi is a licensed psychologist who operates her practice from home, necessitating a separate office, entrance and waiting room.
When Judi stepped through the front door of the information center, magic happened. Where copy machines and pamphlet racks stood, she saw reading nooks and a master suite. Guided by her own eye for design, Judi partnered with a Briar Chapel builder and revamped the floor plan. Walls were moved, cabinets replaced, pantries added, windows uncovered, quartz bathrooms crafted.
At the end, the Oleskis unveiled a 6000-square-foot haven suited for their multigenerational (and multifunctional) lifestyle. Their master suite satisfies their desire for first-floor living. A meeting room was converted into Judi's Clinical Psychology office equipped with a separate entrance, restroom and waiting area. Two guest suites upstairs house their visiting children, and an elevator was added to facilitate easy mobility for their disabled parents. Separate guest quarters in their walk-out basement feature a full kitchen, two bedrooms, living room and a full ADA-compliant bathroom to welcome out of town guests. Four generations in one single-family home was a dream come true!
 Interested in creating your own dream home? Here are three tips to consider.
Consider the needs of your family. 
Mobility and accessibility are critical considerations for all families. Families with young children often want a spacious playroom or backyard along with ample storage for toys, bikes and gear. Families that host elderly parents or grandparents should consider a guest room on the main level with access to other floors via elevator.
Consider your work schedule.
If you work from home or host business meetings on-site, create space for a well-equipped home office. Consider adding a waiting area with a separate entrance, and budget space for file storage.

3. Consider where you spend your time.
Your lifestyle will guide your floor plan. For those who love family dinners or movie nights, invest in a well-equipped and spacious kitchen/living area. For those who host guests, equip your home with a guest suite with a separate entrance. For those who love entertaining, design a back porch space or outdoor room for grilling and parties.

Like Judi, your dreams can be a reality at Briar Chapel. With our team of award-winning builders and plans from 1,400 – 5,000+ square feet for every stage of life, magic can truly happen.