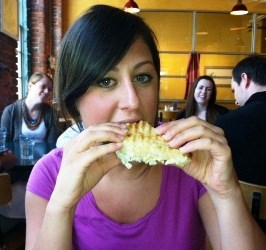 Jami & Kathy Explore - Panzanella in Carrboro, NC
Jami Pearson
Community Relations Representative
"One cannot think well, love well, sleep well, if one has not dined well" – Virginia Wolf, A Room of One's Own
For as long as I can remember, I've always loved trying new restaurants. Rave review on Yelp? I'm there. "Uses fresh, local ingredients"? Let's try it out! As such, when I got the go-ahead for this blog series, the word thrilled simply doesn't do my emotional status justice. After the reality of this fantastic, nay, foodtastic assignment set in, so did my exhaustive list of options – Where oh where would Kathy, my co-worker, and I go first? With so many restaurants, froyo shops, food trucks, etc. to choose from and in such close proximity to Briar Chapel, how were we ever going to decide?! After kicking my indecisiveness to the curb, Kathy and I began discussing the options for our first adventure.
Seeing as how it was around 100 degrees on the day of our outing, we opted for light, fresh fare. We also decided to stick to Briar Chapel's roots and visit a locally owned restaurant that incorporates locally sourced ingredients. If you're at all familiar with the area, then you know that this really didn't narrow things down – a TON of places nearby are locally owned, delicious and supportive of local farmers (which is just one of the many reasons why the area is so great) – so we decided to visit a place that Kathy's daughter recommended: Panzanella. After checking out the "about" section of the website, I was sold.
"...we are a community gathering place that serves locally-sourced natural foods...we believe that the farmers are the true heroes of today's culinary scene, leading the way to better food and a better world."
| | |
| --- | --- |
| Amen! As a farmer's daughter and self-proclaimed "foodie," this spoke straight to my heart…and belly, of course. Upon arriving at Panzanella, I was immediately drawn to the comfortable atmosphere. I've visited my fair-share of restaurants that desperately try to achieve the effortlessly-cool-without-trying vibe, but it often ends up coming across as forced and awkward. No sir, not this place. From the sky high ceilings and exposed brick walls to the cool art scattered throughout, I loved this place from the moment I walked in. |   |
When it came time to order, I opted for the grilled portobello panini with sicillian carrots; my meal was nothing short of fantastic. As a pescatarian (eater of seafood but not meat) of about 4 months, I was worried that this assignment would make me miss my meat-eating days, but this sandwich fit the bill perfectly. The thick slices of provolone cheese, creamy and dessert-like, sat atop fresh and perfectly toasted focaccia along with a grilled portobello mushroom, roasted red peppers, spinach, and garlic aioli. Are you drooling yet?
Kathy chose the chicken salad wrap with a salad and fresh squeezed lemonade. Although I wasn't able to sample her wrap, she said it was marvelous (are you noticing a trend here?). I was, however, able to try her salad which was extremely fresh and crisp - a perfect compliment to the 104 degree weather.
| | |
| --- | --- |
|   | Even though we were stuffed to the brim with food-coma's slowly setting in, we decided that we should go big or go home. Yes, you guessed it, we got dessert. I went with the sweet of the day which was cherry pie. When the waitress asked if I wanted it warm with ice cream on top, I just looked at her, with saucer like eyes that were quickly glazing over – an unfortunate result of my-eyes-are-too-big-for-my-stomach syndrome – and nodded. In case you weren't aware, this is the only way one should eat pie. Kathy opted for a raspberry and peach cobbler with ice cream. |
I'm going to wrap things up and sum our entire dessert experience up with Kathy's statement after taking one bite of her cobbler: "This is the best I've ever had."
Have an idea for where Kathy and I should visit next? Let us know in the comment box below!