Briar Chapel PORCH Raises More Than 5,000 Pounds of Food
Chapelboro.com recently published this article spotlighting the wonderful volunteers and residents of Briar Chapel who bond together to help those in need. We're proud that these incredible people call Briar Chapel home. The original article can be found here; photos courtesy of Kathy Tawney.
Founded in 2010, PORCH has been helping people in the Chapel-Hill and Carrboro communities receive necessary food aid during difficult times like the coronavirus pandemic.
As the nonprofit has continued to grow, so has its partners. The Briar Chapel community became an affiliate in 2016 and has quickly grown its own program.
PORCH Briar Chapel is an all-volunteer hunger relief organization. They collect food and cash donations through monthly neighborhood food drives and deliver 100% of the contributions to the CORA Food Pantry. This pantry provides emergency food to individuals and families in Chatham County.
Since its founding, PORCH Briar Chapel has provided over $58,000 dollars in hunger relief to the community.
Kathy Tawney is one of the founders of PORCH Briar Chapel – alongside Betty Gilson. Tawney originally volunteered for PORCH Chapel Hill-Carrboro, but branched out when she saw the need for a program in her own community.
Briar Chapel consists of over 2,000 residences. Because of its size, Tawney said it can be a lot of work to get the word out about volunteer opportunities – but the payoff is worth it.
"This is a growing community so a lot of people move in and they want to learn where they can volunteer," Tawney said. "So this has been a great opportunity for people to get involved. It's a very inspirational group and as this crisis evolves we're really seeing more people step forward and want to contribute."
Tawney said the contributions continue, even amidst a pandemic – albeit the food donation process looks a little different these days.
Volunteer drivers, who pick up donations from their neighbor's porches, are now decked out with face masks, gloves and Clorox wipes to disinfect their steering wheels and packages.
Outside of donation pick-up, food that is normally sorted by 30-plus volunteers ahead of delivery can no longer be attended to due to social distancing measures.
But, even though physical volunteers were limited throughout the month of March, PORCH Briar Chapel was still able to collect and deliver an incredible amount.
During their March donation drive, Briar Chapel donated over 5,500 pounds of food and an additional $2,000 dollars to CORA Food Pantry.
Tawney said she has just as high of hopes for April.
"I'm hoping we'll get as much or more food and I hope that this really increases awareness for our neighbors because I think now they appreciate more than ever that this could happen to anybody," Tawney said. "This unfortunate event could cause even them to lose their job or their kid to lose his or her job. I think this has made us all realize we need each other."
This month, CORA is asking specifically for canned goods, as those can be hard to find for families in need. Plus, canned food saves on space when the pantry is packing bags for people to take home.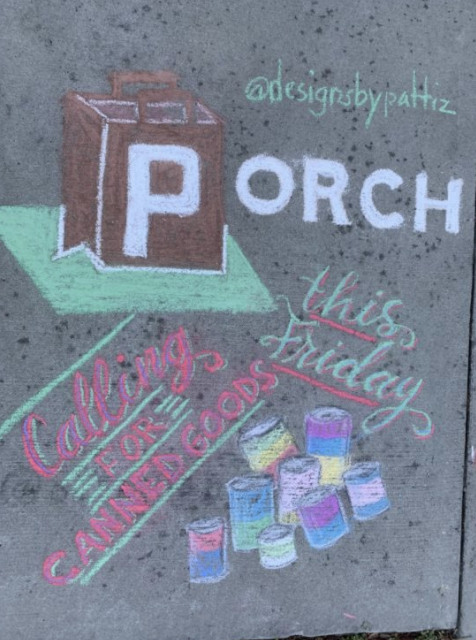 Tawney said any small amount you're able to donate can make a big impact during this difficult time.
"More is best but something is precious and nothing is nothing," Tawney said. "So even if you can only donate one can, it makes a big difference for a person who has nothing."
PORCH Briar Chapel donations are picked up every third Friday of the month.