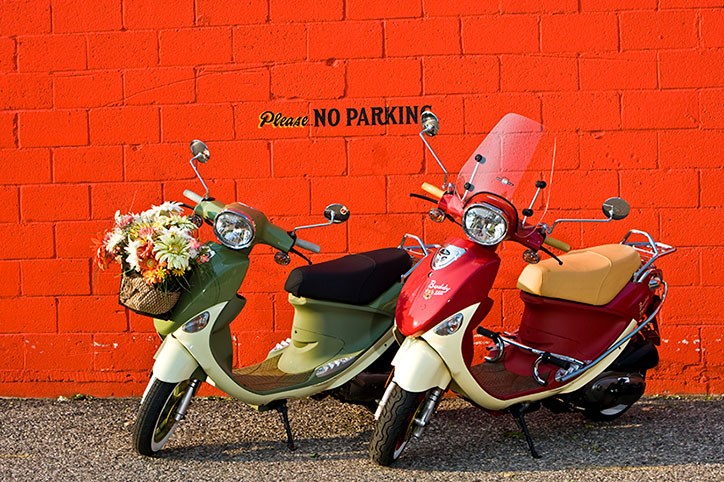 Briar Chapel's Best Buddy
By Jami Pearson
Marketing Coordinator

Week 2 of the Best Buddy Contest has come and gone – Thank you to all who participated! I hope everyone is getting as excited as I am about the grand prize giveaway of a Buddy Scooter at our Earth Day Celebration on April 21.
Recently, I visited with Combustion Cycles, the vendor that we're purchasing the scooter from, and it bears mentioning that this is one cool ride! Remember buddies, the more you do, the better chance you stand at winning the grand prize. With that being said, I wanted to touch on a great way for contest participants to boost their overall point score – I'm talking about "fanfare," a way to earn 30 points. Demonstrating forms of "fanfare" will not allow you to exceed your weekly max of 50 points thus increasing your odds of winning the weekly prize. However, it will count toward your total point score, which is what determines the grand prize winner.To clarify this a bit more, I want to give you an example of what we at Briar Chapel consider fanfare point worthy. Contest participant Merle B. recently created a video outlining Briar Chapel's new 5k route which he posted on our YouTube channel and Facebook wall. This, my friends, is fanfare; it's taking the initiative to go above and beyond in an effort to demonstrate your passion for Briar Chapel and what it stands for. While making a video isn't the only way to receive fanfare recognition, if you do choose to go this route, make sure your creation is original.
Now, without further ado, let's talk about week 3! This week's prize will be a $25 Visa gift card. In order to qualify to win, you must complete the following tasks:
Take a picture of your favorite piece of art in Briar Chapel and post it on our Facebook – 10 points
Visit the David Weekley Homes model and tweetpic us your favorite feature – 10 points
Read our "March 2012 Builder of the Month" blog and post a comment – 5 points
To enter and start playing, click here. Entry forms also available during this contest period at the Briar Chapel Information Center, 16 Windy Knoll Circle, Chapel Hill.
View Official Contest Rules and Regulations.
GOOD LUCK!