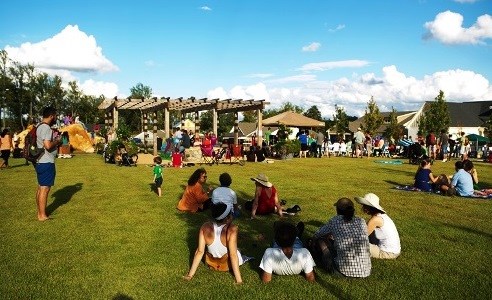 Why Buy Briar Chapel?
Fun neighborhood activities, supporting local, giving back to the community… and food trucks, can't forget those. – It's all in a day's work for Briar Chapel and its staff. Our commitment to living green and sustainably is one that is reflected in every aspect of life here. From the compostable cups that are used, to our LEED certified clubhouse, we back up our talk with our walk; how refreshing is that?
Recently, we hosted "Music in May," an event where the music departments at 3 local schools – Woods Charter, Margaret B. Pollard, and Northwood High  – were invited to Briar Chapel to perform. For several hours, parents, residents and fans alike gathered in the newly completed Briar Commons park for music, comradery and food from Will & Pops, a local food truck. You see, events such as this are common place within our community. We enjoy coming together and supporting each other, which is why Briar Chapel is much more than a neighborhood, it's a community.
According to Matthew Etherington, the Music and Performing Arts Director at Margaret B Pollard, the students were incredibly "excited to perform in public." Making the day even more special was the fact that they performed an original piece by one of the students.