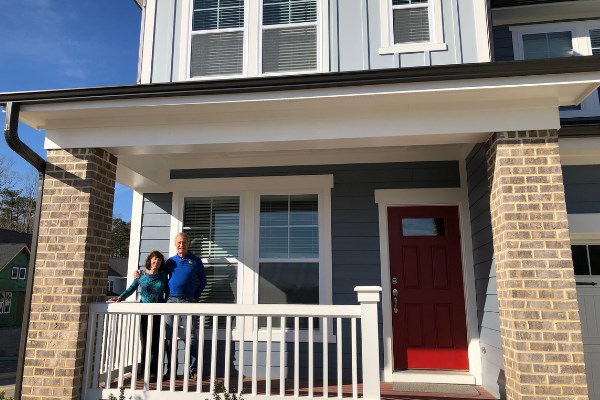 Resident Spotlight: Richard and Joy Lacey
Trailblazers: Baltimore to Briar Chapel
Originally from a suburb right outside of Baltimore, Maryland, Richard and Joy Lacey moved down to North Carolina this past fall to be closer to their children and grandchildren.
True trailblazers, Richard and Joy were the first two residents in the 15 South section of the community – Briar Chapel's newest section with a stunning vista. In the past three months alone, they have gotten to watch the property around them transform from an empty lot to an ever-growing and lively neighborhood. Now there are more than 30 homes built brimming with families – which have enriched their lives.
"During the snow storm in December, we were out of town," Joy said. "Our neighbor and his kid shoveled our driveway and sidewalk for us to come home to … It's just a great community feeling."
Dreams Turn Into Reality Turn Into New Dreams
While their family was the reason for their move, it was the location and allure of Briar Chapel that made them stay. The dream became a reality when they built their dream abode. While working David Weekley to create their ideal home, Joy got the screened-in porch she has always wanted, and they planned in a spacious bonus room to support their hobbies.
Briar Chapel's regular community events have filled Joy and Richard's time with activity, connections and new memories. Joy enjoys playing pickleball at the sports courts, and they both love nights spent playing canasta. And true to their trailblazing spirits, the Laceys just decided to start their own needlepoint club for Briar Chapel, with their first meeting in late January.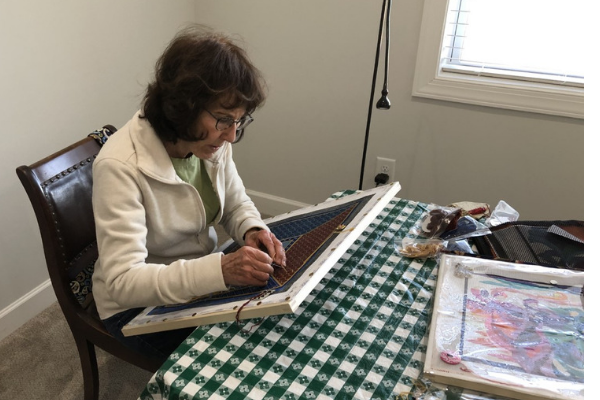 From Up North to Needlepoint
Richard and Joy are more than happy with their decision to move to Briar Chapel, and the weather has been an added bonus that has only sweetened the pot.
"My wife often comments on how sunny it is most days and how clear the skies are," Richard said. "We rarely saw a blue sky in Maryland."
A place to find connection, to find activity, to find a home. If you're interested in joining the Laceys' needlepoint club, keep your eyes peeled for more information at the Briar Chapel Clubhouse! Want to peruse other fun activities awaiting you at Briar Chapel? Enjoy.