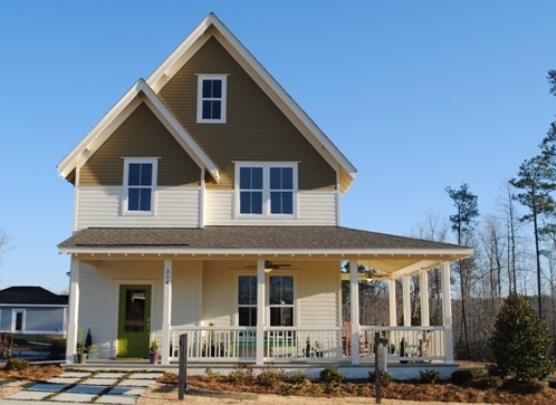 Saussy Burbank - February 2012 Builder of the Month
By Heather Campbell
Customer Relations Coordinator
Saussy Burbank's own Michele Upchurch offered great insight into the builder which, formerly under the name McNeill Burbank, has been building new homes in the Triangle since 1992.  "We have built close to 1,000 homes here, winning numerous awards for quality, craftsmanship and style" she said, adding "Our unique designs borrow architecturally from the past, blending into a timeless look for today, tomorrow and always".
"Saussy Burbank understands that for a home to last for generations, cost per square foot must not be the driving factor.  We don't build the biggest homes or the least expensive, we build quality homes with great attention to detail that create neighborhoods and are built to last."
Being a builder in Briar Chapel's green-built community, Saussy Burbank is NAHB Green and Energy Star Certified.  They incorporate many practices, which Michele noted can add up to big savings.  High-efficiency HVAC systems and water heaters, energy saving insulation and air-sealing packages, high-performance low E windows, Energy Star appliances are all among Saussy Burbank's green-building standards … and that's only the beginning.
"Saussy Burbank is passionate about the attention to detail and in keeping the authenticity of the style and design of each and every home we build", Michele told me.  "We are also committed to true customer satisfaction, from your first model home visit to long after you have closed on your new home."
For your own tour of what Saussy Burbank has to offer, visit our website or stop by for a firsthand look of your own.