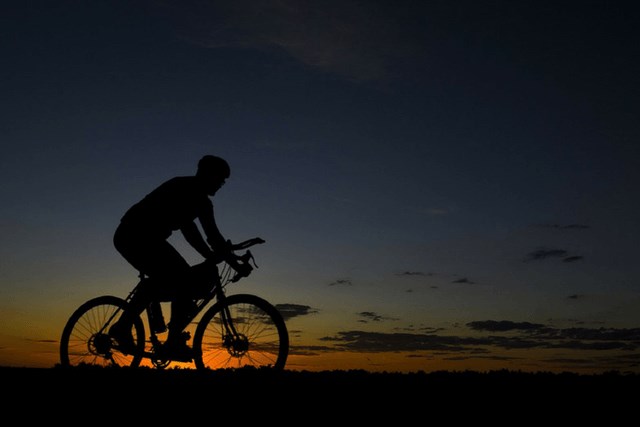 The Night Riders
At first glance on a dusky Monday evening, the vista might look like fireflies dotting the trails at Briar Chapel. But look again. You've just spotted the Night Riders, a group of bike enthusiasts who prefer the cooler temperatures and peaceful calm of evening rides.
Developed in partnership with Triangle Off-Road Road Cyclists (TORC), our trail system at Briar Chapel spans six miles across the community. It features a sustainably constructed, single-track mountain bike trail that has quickly become a hotspot for both casual and competitive bike enthusiasts. Since the off-road mountain bike trails opened in 2008, TORC has filled our trail calendar with events from formal races to these refreshing night rides.
It's "Otherworldy!"
The Night Riders launched their inaugural ride at Briar Chapel approximately a year ago, and today they meet year-round on the first and third Mondays - 8 p.m. sharp! In addition to Briar Chapel residents, the Night Riders attract fellow cyclists from Durham to Chapel Hill. Durham resident, Andrew Farris, has been a part of the group from the beginning.
"It's a very different experience riding at night than during the day," said Farris. "Of course the temps are cooler, and it's a bit quieter, but night riding also changes the flavor for cyclists and can be a somewhat "otherworldly" experience. When you're on the trails at night, it's easy to forget that you are so close to a suburban area."
Get Involved.
While perhaps "otherworldy" in nature, the Briar Chapel night rides are no walk (or ride!) in the park! Since Briar Chapel features advanced rock sections and tough climbs, TORC recommends that riders have at least a year's worth of mountain biking experience, as the pace will be fairly brisk. Riders also need a minimum 300-lumen light, and of course, helmets are required.
Interested in joining the Night Riders group? Access all the details in TORC's Meetup group or explore Briar Chapel's daylight rides for a "lighter" experience. If you're looking for more ways to adopt a healthy lifestyle, check out our four tips to get active this spring!