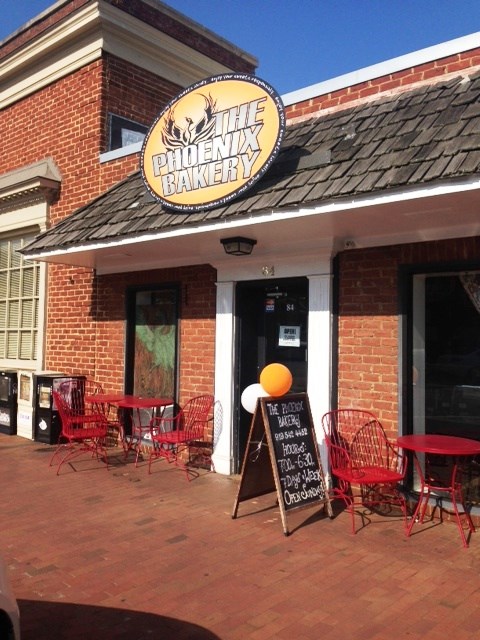 A Few of my Favorite Things...
Cali Buhrman
Customer Relations
I'll admit it—I have an insatiable sweet tooth.
That being said, you'll understand why my interest was piqued the other day when a sweet couple came by the Information Center, raving about a little bakery in Pittsboro, about 8 minutes from Briar Chapel. I've been really excited about using this blog series to shed some light on all of the great food and services around; so, as soon as they could say the words "homemade doughnuts," I was out the door and headed to do some um, research. Yeah, that's it (wink, wink).
It turns out, the spot they were referring to was Phoenix Bakery. The outside was very quaint and welcoming, with a few tables outside for those who wanted to sit and enjoy the weather. Inside, my eyes darted from cookies to doughnuts, and from coffee to cake—Oh, the possibilities! A very welcoming clerk smiled at me and told me to take my time… she must be used to indecisive customers.
Being the only customer in at the time, we started making small talk, and the clerk told me that the owner, Jodi, had a true talent for baking and that all of the flavors were concepts created by her. We also talked about the ways Phoenix supported local farmers and sustainability: Jodi tries to locally source as many ingredients as she can, and Phoenix also sells Counter Culture coffee, which is made right here in Raleigh. Spending so much time in a green community like Briar Chapel has really made me conscious of these efforts, and it made me feel good about supporting their small business.
The doughnuts looked amazing: Boston Crème, Lemon Curd, Coconut Crème, Apple Pie, and Cheesecake were a few of the flavors there when I went. There was also freshly baked bread, scones, muffins, and they had examples of custom cakes. I finally settled on the Boston Crème doughnut, and I'm not even exaggerating telling you it was gone about 20 seconds after I got into my car. Absolute heaven.
I will definitely be going back to Phoenix Bakery, and I hope you will try it out too!
Where should Cali check out next? Let us know in the comment box below!
All of the baked goods at Phoenix are made fresh daily. The usually have BOGO specials before closing!
Phoenix Bakery
84 Hillsboro Street
Pittsboro, NC 27312