5 Owner's Bedroom Trends for 2020
Planning your dream abode? When designing your owner's bedroom, take note of these delightful design trends that promise to be hot in 2020. In fact, our builders are showcasing these up-and-coming styles in their model home owner's bedrooms in Briar Chapel.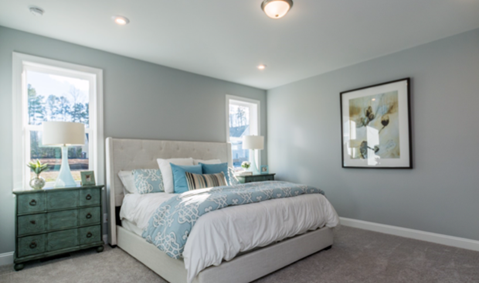 Pastel Minimalist
The Oberlin model home by Homes by Dickerson in Briar Chapel features a owner's bedroom with the classic trend – the Pastel Minimalist. This design channels natural light, cool pastels and less-is-more décor to create a calming, aesthetic space.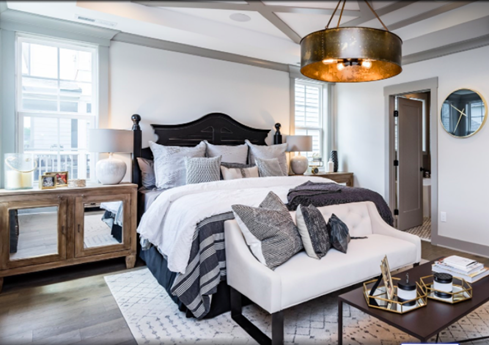 Farmhouse
The Farmhouse trend encompasses all that is light, unfinished, fresh and cozy. Showcasing elements of natural materials and industrial-style lighting, the Accent model home by Garman Homes in Briar Chapel is also adorned with wood accents to complete the Farmhouse vibe. In this case, Garman includes a pop of glam with mirrored furniture and décor details.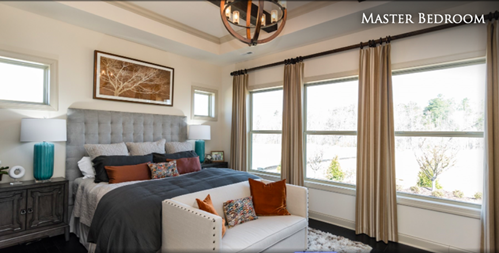 Ample Natural Light
A classic feature that is constantly desired in a owner's bedroom is ample natural light, which we have a remarkable amount of in our Chapel Hill Homes. This owner's bedroom in The Tabula by Encore by David Weekley Homes utilizes three panel windows, allowing natural light to radiate the bedroom. The décor colors amplify the sunlight and call attention to the brilliance of the outdoors.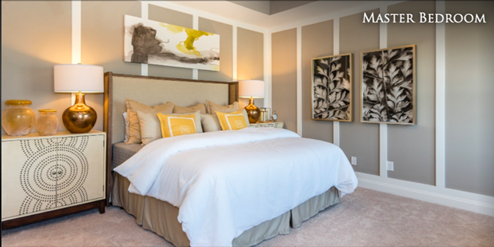 Neutral Palette with Pop of Color
This owner's bedroom in The Formosa by David Weekley Homes in Briar Chapel carefully places neutral colors together to create a relaxing space, while brightening the room with warm lighting and yellow hues. These subtle pops of yellow liven up the neutral brown, beige, tan and cream tones as well as add variation to the center.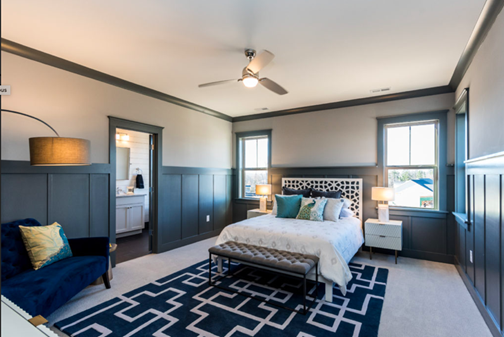 Aesthetic Wall Treatments
Complemented by a dark color scheme, this Saussy Burbank model home, Ashburn, features a owner's bedroom gorgeously accented with wall textures. This Briar Chapel model home features paneling and trimming that provide depth and draw the eye upward to create a spacious feel in the room.
Visit our Briar Chapel model home village in Chapel Hill, North Carolina and see these gorgeous designs for yourself!