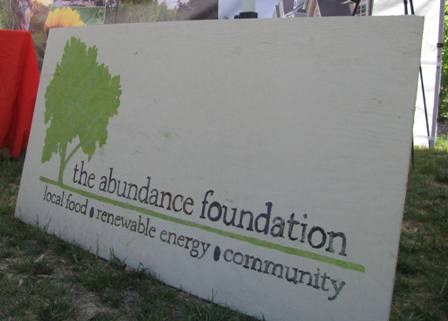 Briar Chapel 5K: What it means to us
By Tami Schwerin
Executive Director, The Abundance Foundation

 

Today's blog post is from one of our community partners, Tami Schwerin of The Abundance Foundation. Before joining Abundance, Tami was the president of the board of Chatham Marketplace, Pittsboro's amazing coop grocery store. She lives in Moncure with her two children, her two dogs and her husband, Lyle Estill.

 

Running a 5K is really easy for some, like one of our board members, Superior Court Judge, Allen Baddour. He hardly breaks a sweat. For others, such as myself, it takes some courage, some preparation and some competition. You have to focus on those  3.2 miles which for me means turning off the computer, make a running schedule and getting into shape! If you are starting out, it might take a few weeks before you start looking forward to it, but magically, it does happen where you feel that burst of endorphins. You will notice that your day goes smoother on a day that you run, and for me, that makes it completely worth it! 

 

We are grateful to Briar Chapel for holding the 5K on April 17 to benefit The Abundance Foundation because it gives the runners a beautiful course to enjoy and allows us to do what we love to do! This includes programs such as our DIY (do it yourself) Sustainability Workshop Series, our Children's Sustainability and Energy Tours, our just for fun and stimulating ideas like Pecha Kucha Pittsboro Nights, our new Community Garden Initiative and all the other work we do around educating folks on local food, renewable energy and community. 

 

We know these programs are worthwhile when we get positive feedback from the community. I ran into a mom the other day whose son had been out on one of our kids' tours, and she said he insisted on planting peanuts this spring. He learned about them at our place. We had an Introduction to Solar Energy for Women workshop taught by Rebekah Hren (co-author of Carbon Free Home) last month that left the women glowing with inspiration, excited to have had such a bonding experience together. Going back to basics is one of our messages and to that point, we know that Emily Buehler's bread making classes are wildly successful and teach lots of folks how to go home and bake their own nutritious breads instead of buying breads with high fructose corn syrup.

 

Overall, it is our goal is to introduce people to new topics and encourage them to take the next step, whether that is installing solar panels, getting a "green" job, taking steps to reduce waste, conserve energy or plant a garden. We find that people are hungry to learn and to make changes to increase their family's health, their environment's health and their spirit's health.

 

We must all take responsibility to begin educating ourselves, and back to the 5k this weekend, I would argue that a healthy lifestyle does in fact relate to sustainability. When your body is in shape, you tend to eat healthier, you think clearer, you make better decisions and as a result, you are happier. So you see, our personal health is connected to our planet's health. We hope you will join us for the run at Briar Chapel on April 17, and consider checking out one of our workshops or one of the many Abundance Foundation events in your community.

 

Thank you Tami - we hope to see you all this weekend!

 

*The thoughts and opinions of guest bloggers do not necessarily reflect the opinions of Newland Communities or Briar Chapel.