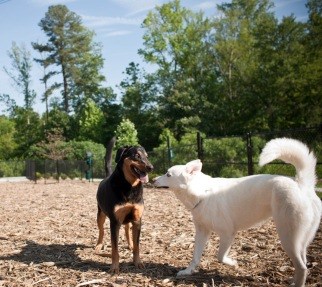 Dog Days of Summer
Jami Pearson
Marketing and Event Coordiantor
What: Dog Days of Summer
When: July 13 from 9:30 – 11 am
Where: Briar Chapel Bark Park
1831 Great Ridge Parkway
Chapel Hill, NC 27516
Why: Because having fun while giving back is the best of both worlds!
Briar Chapel's Bark Park, an on-site amenity where our four-footed residents and their owners can cut loose, is a staple within the community. With so many pooch-lovin' peeps residing here, it makes perfect sense for us to throw a canine-centered event. Even better, we're partnering with local pet charity Paws4ever to throw The Dog Days of Summer. Paws4ever is a guaranteed-adoption animal shelter and sanctuary dedicated to improving the lives of cats and dogs through adoption, training and education.
On Saturday, July 13 from 9:30 – 11 am at the Briar Chapel Bark Park, we have a fun lineup of activities, with all proceeds benefitting Paws4ever.
9:30 – 11 am: Adoptable pet station by Paws4ever
9:30 – 10 am: Trail Trot (Essentially, this is a leisurely walk through our beautiful trail system)
10 – 10:30 am: Training demonstration provided by the experts at Paws4ever (which offers training classes, FYI!)
10:20 – 10:40 am: Best trick contest (The winner gets a gift certificate to Phydeaux!)
10:40 – 11 am: Cutest costume contest (This winner gets a gift certificate to Phydeaux as well!)
So, where do these aforementioned proceeds come from? YOU, of course! To gain entrance to the event, all you have to do is bring one item per dog from Paws4ever's wish list, which can be found here (you might have to scroll down a tiny bit) –OR– you can make a monetary donation via debit/credit card at the event. Once your donation is made, each pooch will receive a cute bandana to wear along with a voucher for a doggie ice cream from Paws4ever's Waggin' Wagon, which whips up tasty treats for those of the furry persuasion.
For additional event details, click here and to view the event on Facebook, click here. Who plans on coming?