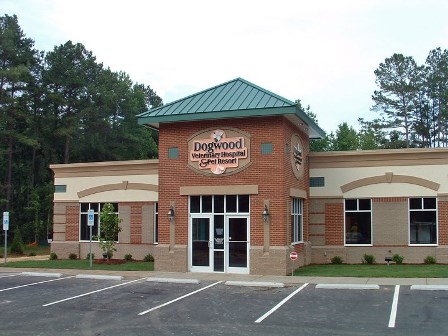 Dog park etiquette
by Genevieve Andrews
Dogwood Veterinary Hospital & Pet Resort 
We are so excited to introduce to you our neighbors and friends (literally...Just across 15-501 from the entrance to Briar Chapel) Dogwood Veterinary Hospital & Pet Resort. The generous doctors at Dogwood, Dr. Linda Sands and Dr. Michelle Pineda have joined forces with Briar Chapel Community Association (BC HOA) to bring you the fabulous new dog park - The Briar Chapel "Pooch" Park located at the southern tip of Great Ridge Parkway.
To "kick off" this great new addition, we thought it would be fun if the fine professionals at Dogwood Veterinary Hospital & Pet Resort shared some helpful tips and dog park etiquette as the warmer season is upon us and our pets will be anxious to spend a bit more time outdoors! There are also some helpful tips at the bottom of this post regarding pet food nutrition myths and facts.


Following proper dog park etiquette and the specific rules outlined by your local dog park can ensure that you, your pet and others will have a safe and enjoyable time. For more information about Briar Chapel's dog park rules, please visit the Briar Chapel community intranet.


Here are a few other things to consider when bringing your pet to the dog park:
Do not leave your dog unattended for any amount of time.
Clean up after your dog – utilize the baggies and trash cans provided by the park or bring your own. Each time you see your pet eliminate, it is best to clean it up immediately. This helps to prevent the spread of intestinal parasites and disease. In addition, it is just common courtesy!
Do not bring your dog to the park if he or she is ill. If you have any concerns about your pet being healthy enough for a visit to the dog park, please consult your veterinarian.  
Do not bring your dog to the park if he or she has fleas or other potentially contagious skin diseases, such as sarcoptic mange. 
Be sure that your dog has been properly vaccinated and has a valid Rabies tag and certificate. Your pet should be up to date on:
Bordetella (Canine Cough) vaccine
DHPP vaccine
Rabies vaccine
Fecal exam or prophylactic deworming
It is not recommended to bring puppies under the age of 16 weeks to the dog park. Young puppies may not be vaccinated appropriately for that type of exposure to other pets. Talk to your veterinarian about when it is safe for your puppy to join in the fun. In the meantime, focus on socializing your puppy with people and other well-vaccinated pets.
Bring only spayed and neutered pets to the dog park. Bringing intact pets to the park is irresponsible and can provoke rough play and even dog aggression.
Follow your dog park's rules about the number of dogs you can bring at each visit. More than three may be more than you can supervise and handle. It is always best to feel comfortable and in control of the number of pets you are responsible for that day.
Keep your dog on a leash until your dog is safely inside of the gates of the off-leash area.
If your dog begins playing too rough, the best way to control this is by leashing your dog immediately and leaving. Come back at another time when your dog is willing to play nicely with others. To avoid complaints or being banned for having a pet that cannot play nicely, discuss socialization and behavior with your veterinarian and consider enlisting the help of a professional dog trainer.
Use caution when bringing your children to the dog park. This can be very dangerous if children are not closely supervised. Again, don't bring more pets or people to the park than you are comfortably able to supervise and control.
Pet Food Nutrition Myths and Facts:
Myth:  Corn is just a filler.
Fact:  Corn is NOT a filler.  It is a superb source of nutrients such as essential fatty acids, antioxidents, highly digestible carbohydrates and quality proteins.
Myth:  Corn is poorly digested.
Fact:  Cooked corn is highly digestible.  The protein in corn is more digestible than that of rice, wheat, barley or sorghum.
Myth:  Pet foods that contain ingredients listed as "by-products" are inferior.
Fact:  Many by-products are excellent sources of nutrition for pets.  In fact, vitamin E, gelatin, chicken stock and beef bouillon are all by-products that people consume.  Common by-products used in pet foods are chicken livers and hearts, beet pulp, tomato pomace (from tomato skins, pulp and seeds), and animal fats.
Myth:  "Meat-first" foods are better.
Fact:  Healthy pets need nutrients and a complete balance of amino acids from both meat and non-meat sources.  Meat is not the only source of protein available, either.  Other ingredients, like corn, can provide it as well.
Myth:  Grain-free pet foods are better.
Fact:  There is no nutritional foundation to support a grain-free diet, and foods that have grains are just as digestible as grain-free foods.  The term "grain-free" is misleading, as all grain-free foods contain carbohydrates from other sources, such as the sweet potato, which has more carbohydrates than corn.
Myth:  More protein is better.
Fact:  Animals cannot store protein.  Excess protein forces the kidneys to work harder when they have to convert it into waste, which is excreted in urine.  More protein is not always better.
Myth:  Dogs are carnivores and need mostly meat.
Fact:  Dogs are omnivores and need a balanced diet of proteins, carbohydrates and vitamins from a variety of sources including meats, vegetables and grains.  This aids in controlling excess nutrients that may be a risk for long-term health.
A few reasons that Dogwood Veterinary Hospital & Pet Resort recommends Hill's Science Diet for your pet:
Hill's Science Diet is one of the very few manufacturers that actually prove their diets through AAFCO (the Association of American Feed Control Officials) feeding trials.  Most pet food manufacturers only formulate their diets to meet broad nutritional requirements.  This means that when you are feeding these formulated diets, you are performing a food trial test on your own pet!
Hill's Science Diet has not been involved in the many recent recalls that have affected the safety of many of the popular pet foods on the market. 
Hill's Science Diet has five times more antioxidants than typical grocery store brands for a healthy immune system.
Hill's Science Diet has controlled levels of sodium for healthy heart and kidneys.
Hill's Science Diet has enhanced levels of Omega 3+6 fatty acids for healthy skin and coat.
Hill's Science Diet pet foods have been specifically designed to address the unique life stages in both dogs and cats.
Many pet food manufacturers have no veterinarians or nutritionists on staff.  Hill's Science Diet has

more than 150 veterinarians, PhD nutritionists and food scientists on staff.

 

Hill's Science Diet pet foods are 100% guaranteed.  If for any reason the food does not work out for your pet, you can return the food for a full refund.