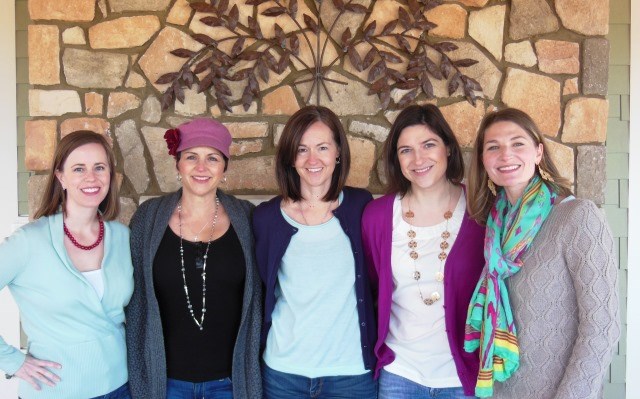 Our Residents Give Back
Cali Buhrman
Customer Relations
We're so lucky here at Briar Chapel! Not only is this a gorgeous community (that just won Development of the Year by Triangle Business Journal), but our neighborhood is chock full of residents who are involved in organizations that give back.
I recently spoke to Jenn Bowman and Jaime Detzi, two philanthropists living in Briar Chapel, about the success of their recent endeavor, Chatham County's very first 'Giving Party.' The two were eager to talk to me and raise awareness about the needs of Chatham County, and had lots of great stories to tell (Jenn and her husband, Lee, were the second homeowners in Briar Chapel!). The inaugural Giving Party was hosted at the Briar Club on December 2, 2014, and was modeled after Chapel Hill's successful holiday event. The idea is simple, to invite friends and family to attend a party, serve wine and tasty food, and ask local charities to share what their organizations do. The theme of this party was "Girls Night Out," and women from across the area came together to have fun and support amazing local charities.
Jenn, Jaime, and four other core philanthropists spearheaded the event, identifying 5 organizations to promote, out of the 92 non-profits in Chatham County (92?! Whoa!).  "It was so hard to choose only 5! There are so many needs in the community we didn't know existed. We plan on rotating out the non-profits next year , but we want to showcase varying missions and expose all types of needs," Detzi explained. The following groups were represented in 2014: The Abundance Foundation, Chatham County Council on Aging, Communities in Schools of Chatham County, Chatham Education Foundation, and The Learning Trail. Canned food items were also collected for CORA food pantry, benefitting the Backpack Program used by many schools. "I realized that these groups who work with our schools are helping kids who sit in desks next to my children, and that really hit home for me," Bowman said.
Along with accepting monetary donations, the organizations also talked with guests about volunteer opportunities available, and how to get involved. "Our children notice when we take time away from our family to help others. We are committed not only to doing what we can to help now, but to inspire the next generation to be philanthropists," Detzi explained.
The Giving Party was certainly a success, bringing together 100 women, mostly from Briar Chapel, and raising almost $3000, and many canned food donations.
Living in Briar Chapel is more than owning a home in a beautiful community. Coming together as one to positively impact our surroundings and inspire change—now that's what Briar Chapel is all about.
For more information on this year's Giving Party, or ways to get involved, please contact Jenn Bowman (jenniferbowman78@gmail.com) or Jaime Detzi (jdetzi@gmail.com).