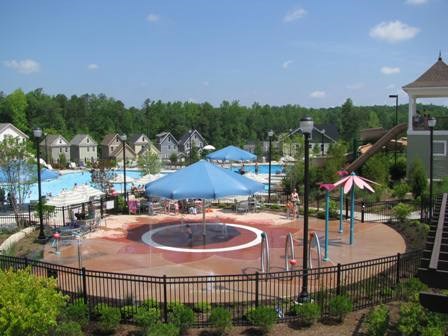 Fun Summer Activities to Keep Cool
By Brittany Plumb
Activities Director, Briar Chapel Community
When I was a camp counselor in the scorching South Carolina Summers, figuring out a fun way for the kids to keep cool was a must. Below are some of my favorites that the kids absolutely loved. 
Playing in a creek - Luckily the camp was walking distance from a small creek. The kids would spend hours there swimming in the muddy water, making mud monsters and catching fish with their hands. It was fun to see the kids really get into nature. The children loved it so much they didn't even complain about the long hike to the creek.
Ice necklaces – This is an easy fun way to keep the kids cooled off while playing outdoor sports. All you need is an ice cube tray, string, water and beads (optional). Fill the ice cube trays with water. Then, lay the string in the water deep enough so when it freezes the ice cube will fully surround the string. If you have beads allow the kids to string beads on the necklace and then dip the beads into the water.
Slip and slide – This is a cheap and easy way to cool kids down in the back yard and keep them busy for hours. Buy a tarp from a home goods store, something like what you would put down when you paint. Buy some cheap hand soap, the cheaper the better and pull out the hose. Throw the tarp on a slight hill, drench it with soap and let the water flow. This creates a fun slip and slide for the kids.
Find Shade – You'll be surprised how much cooler it can be in the shade. Find a big tree to sit under and have a picnic, read a book, or play a game.
Melty Beads - If you have to have the kids inside to cool off try Melty Beads online or at your local craft store. These always kept my campers amazed for hours on end.
Thanks for these great tips Brittany - if you have any great ways that you try to beat the heat during the summer months we would love to hear from you!
For additional tips, click here.