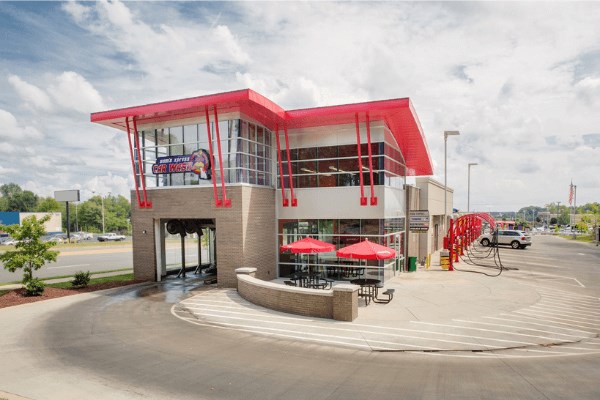 Briar Chapel Breaking News
Soon, Briar Chapel residents who want (or need!) to get their car squeaky-clean won't have to leave the neighborhood. Sam's XPress Car Wash is coming to Briar Chapel, allowing residents access to car washes from a convenient nearby location.
A little about your new neighbor Sam
Privately owned and operated, Sam's Xpress Car Wash - based in Matthews, NC – has welcomed 29 locations since its first opening in South Carolina in 2012. With several more on the way in North Carolina including the Briar Chapel location, the company is rapidly expanding through the state.
What it will add to the community
The Sam's Xpress team is committed to creating an exceptional experience for customers in Briar Chapel by utilizing innovative technology and giving back to the community. From fundraising opportunities to community efforts, Sam's XPress offers much more than car washing. 
Additionally, aligning with Briar Chapel's green sustainability efforts, Sam's XPress will bring convenient services to the community while still respecting environmental standards. The car wash recycles 100% of the water used and re-uses up to 90% while returning the other 10% cleanly and safely through innovative technology. Sam's XPress saves approximately 12 million gallons of fresh water per year.  
A message to residents
"We look forward to bringing new jobs and friendly faces to the area," said Director of Corporate Branding for Sam's XPress, Jodi Wilkerson. "We would like to thank you all for welcoming us into this beautiful community." 
Sam's XPress will offer several affordable pricing options, including unlimited washing options for a low monthly rate to save residents money and allow them to keep their vehicles clean all the time.
As the latest fixture in the Briar Chapel, Sam's Xpress Car Wash honors the spirit of environmentalism, connectedness and convenience that the community embodies. If having endless amenities in your backyard sounds like the lifestyle for you, contact a Briar Chapel representative today.  
---
Located in Chapel Hill, North Carolina, Briar Chapel offers new homes from the $300,000s. Explore Briar Chapel's resort-style amenities, parks, trails, shopping and on-site schools, a community that has been named Best Neighborhood in Chapel Hill for five years running!