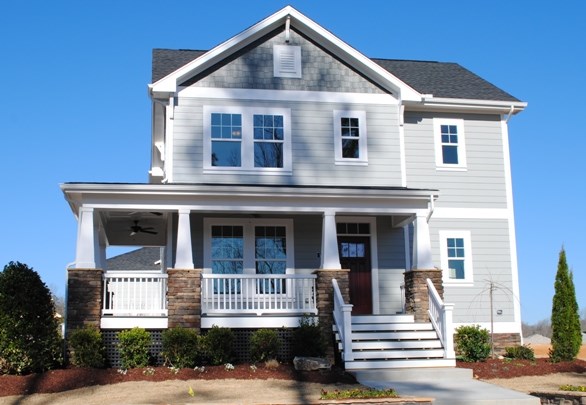 With David Weekley Homes, Employees Are Not Just Employees
By Heather Campbell
Customer Relations Coordinator


After almost 7 years with David Weekley Homes, Jim Talbot, Lead Builder, has first-hand experience with the way employees are treated, which is the same way their homeowners are treated … like family.  "David Weekley himself believes in making each and every employee reach the goals they have set for themselves" he said.  "So many other companies out there are only interested in that number at the end of the month or quarter.  The employee doesn't matter, only the sale or building a home and cutting corners to save money.  David Weekley Homes is just the opposite."
Jim feels that communication and service are the keys to David Weekley Homes' success.  "I used it when I had my own business for 18 years and it is what attracted me to David Weekley Homes.  All the way from sitting and talking to the buyer before they even write that contract, to sitting down with them for the first time going over their specific plan and options they chose and making that home unique to them.  Then the weekly phone calls giving them updates, asking them to get involved and the webpage we set up for them through 'mydwhome.com' all allow them to see the progress of their home."   He enjoys seeing a homeowner sign off during what they call the "acceptance meeting".  And he enjoys knowing that they have given that homeowner a house that they can then call a home.
With years of experience, Jim had many builders to choose from almost 7 years ago.  But after doing his research and talking to homeowners, one thing stood out.  That was David Weekley Homes being a builder that stands behind what they build.  "For the past 7 years, when most builders are cutting corners, David Weekley Homes is not only NOT raising prices, but is adding more in their homes to make these homes better constructed with the lowest energy bills in the Triangle"  Jim pointed out.  "David Weekley Homes is one of the only builders to use 2x6 Advanced Framing Construction and is the only builder that has been able to reach the Platinum Level with the Environmentals For Living Program, the only program to guarantee your energy bills for 3 years."  That says a lot.
Visit with a David Weekley Homes representative at Briar Chapel.  A great location, fabulous amenities just minutes from your door and amazing floor plans … they could just be your perfect builder in your perfect place.