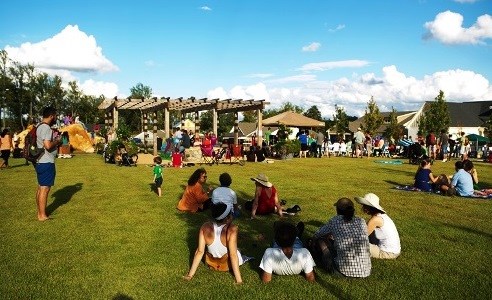 Calling All Music Lovers...
Cali Buhrman
Customer Relations
Warm weather, friends, good food, cold drinks, live music—these are the images that flash before me when I start thinking about sweet summertime.
I know a lot of people share this vision, so Briar Chapel has announced a Music In The Meadow concert series, set to kick-off on June 13th. Our goal is to bring the best of the south to Briar Chapel, for an afternoon of fun. Check out this amazing lineup we have planned for June:
The 919: This band from North Carolina is everything a cover band should be—so fun and energetic, they will have you dancing all night long!
Pie Pushers: Based in Durham, Pie Pushers has become one of the most popular food trucks in the Triangle. They focus on local ingredients and use home-based farmers and artisans whenever possible. Take a peek at what they'll be serving up here.
Little Dippers: It's no secret that we love Little Dippers Italian Ice here at Briar Chapel, so of course we wanted them to bring out their amazing sweet treats! (Here's hoping they bring raspberry, my favorite!)
Cocoa Forte: A local dessert truck that specializes in chocolate-dipped cheesecakes…Need I say more?
Music in the Meadow will take place at—you guessed it—Great Meadow Park, every second Saturday in June, July, and August from 5 p.m. to 8 p.m.  The event is free to the public, but we are asking that attendees bring a canned food item to donate to CORA food pantry.
"Like" us on Facebook to be the first to know what we have in store for the July and August concerts!
What bands would you like to see at future summer concerts? Let us know in the comment boxes below!