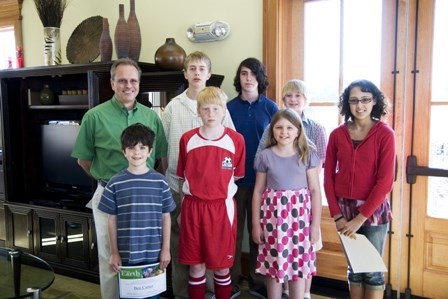 Sustainability in Education; Recognizing The Talents of our Future
By Shannon McSwiney
Community Marketing Manager, Newland Communities
On Sunday, April 18, 2010, as part of the Earth Day festivities at Briar Chapel, we had the pleasure of recognizing the talented student winners from Woods Charter School, for their sustainability in education contest entries.
It is also appropriate that we recognize the principle and other faculty members at Woods Charter School who made this collaborative effort possible:
Mr. Harrell Rentz, Principal         
Mr. Cotton Bryan, H.S. Director / Assistant Principal        
Ms. Melissa Green, 3rd Grade Lead Teacher / Admin. Rep.      
Ms. Sonja Younger, 5th 7th 8th Grade Science Teacher
Mr. Matthew Etherington, Middle School Director
And I know there were several others not mentioned, but we are grateful for this collaboration and flexibility in allowing the contest to all come together. So thank you!
When our team at Briar Chapel began planning for this big celebration around earth day, we knew we wanted to include the following components; a focus on local and the opportunity to bring a greater awareness about sustainability – we knew involving our local schools would be another important component. As we all know this generation of young adults already has a greater sense of environmental awareness – and wouldn't it be great to provide them a platform in which to have their message heard
And from there our project grew.
We asked students of Woods Charter School in grades 3 – 12 to share the meaning of sustainability/change a behavior either in their home, with their peers/community or educate about water and energy conservation through a public service announcement.
Well, let me tell you – we have some extremely talented students – all of the entries were impressive! All of the students did a fantastic job and were very creative. The winning students fully met the submittal criteria and came out either as top winners or runners up.
For the Elementary School Division, we chose Emma Lanford's Sustainability Journal that categorized her approach to water conservation in her home – complete with checklists and hand drawn photos. Emma shared a very clear plan and how it was carried out.
Our Runner Up for the Elementary School Division is Ben Carter – Ben put together an extremely creative visual journal of a weeks worth of things he did at home from composting, timing water use in the shower to planting a vegetable garden and switching all regular light bulbs to compact fluorescent bulbs. The journal even included recycled materials as the visuals – very clever Ben!
For our Middle School Division, we had the most entries. A team of brothers, Danny and Kevin Johnston, were chosen as the winners. They developed further a veggie fest winning entry of a "nutritionally complete" meal into a full cook book in which they assembled and distributed to their neighbors and friends/family and encouraged them to eat as a vegetarian and choose local foods as much as possible.
Our runners up, Mia Kaplan and Claire Day, were impressive with sustainability journals. Mia touched on the things she and her family already does in their home and Claire focused on creating / encouraging bluebird habitats. Great job to our middle school division!
One additional person in the 7th grade, whom we should mention, is Clara Hilton – one of the veggie fest winners from Ms. Younger's 7th grade Science Class for her nutritionally complete recipe. She even brought her fantastic veggie pasta salad to the ceremony for all to sample.
For the High School Division, the use of technology was a key component in "displaying" their creative invention. However, good old fashioned, recycled parts made it all come together. A team of brothers, Nik and Luke Krenitsky, were our winners. Discouraged by the rising gas prices, these gentlemen developed a method for producing an alternative form of fuel that has been tested in a two cylinder motor and is being prepared for testing for use in an eight cylinder vehicle.
Each of these students really shared their creativity and enthusiasm for sustainability in various methods of expression. Please help me in congratulating them for their efforts!
We hope you will enjoy the photos of the winning entries – you will be very impressed with what the students presented. And later, be sure to check back for video of all Earth Day festivities at Briar Chapel including the Celebrity Chef Charity Event that raised money for The Abundance Foundation.
Please share with us how you celebrated or encouraged sustainability for the longevity of our planet during this 40th Anniversary of Earth Day 2010!