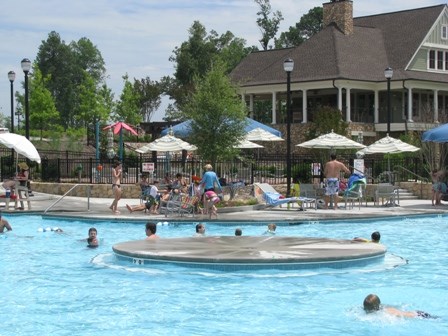 With Summer Pool Season Comes Pool Safety
By Brittany Plumb
Activities Director, Briar Club
Summer is upon us, and what better way to cool off, then to take a dip in the pool! The Briar Chapel pool just opened and it is without a doubt, going to be an exceptional season. The kids really love the Raining Mushroom towers, and love interacting with the press button Splash Pads. The adults are getting into shape by taking advantage of the early morning 'Swim at Your Own Risk' hours. While we all know how much fun the pool can be; there are beneficial cautions we should always brief ourselves with before making the big splash. Safety, first, right!!
Does the Pool have lifeguards on Duty
Before you jump in, find out if there are lifeguards on duty. Briar Chapel has guards on stand at all times with the exception of the Early Morning Lap Swim. If a particular pool does not have guards on duty, make sure you are not by yourself in that pool. Even the best swimmers can develop cramps, become exhausted, and/or get injured in any pool!
Be Proactive
Take care that your children are little swimmers. Though accidents can happen to anyone, it is less likely for a person who can swim to become a drowning victim. Check with your Pool to see if they offer swimming lesson. Briar Chapel offers their swimming lesson throughout the summer for both kids and adults. Remember, kids tend to overestimate their swimming ability and get into situations that they can't yet handle. So, make sure your child is a good swimmer and has become very well educated about the risks of a swimming pool.
Doing Your Part to Keep the Pool Clean
Cryptosporidium and Giardia may sound scary, but I assure you, their names are only the beginning. These little creatures are transmittable parasites linked to gastrointestinal illness outbreaks in swimming pools. They can withstand pool chlorine for a very long time!! Both illnesses can cause diarrhea, abdominal cramps, malaise, bloating, and dehydration. Talk about - a party pooper! Here are recommendations from the Center of Disease Control to help prevent outbreaks.
Wait

2

weeks following any diarrhea before getting in a swimming pool.
 Don't swallow water in any pool or interactive water park.
Take wee children often to the bathroom to check their diapers. Make sure less wee children wipe

thoroughly

.
Change diapers in the bathroom - not in the lounge or poolside area.
Children who wear diapers, even swim diapers, should wear rubber/vinyl pants over those diapers for extra protection from unexpected accidents. (Are there even expected ones ) Briar Chapel Pool has made them available for purchase at the check in desk for $2. You can also find them at shopping centers, such as: Wal-Mart and Kmart.
All of us at Briar Chapel wish you and your families - a Safe Summer of Fun!!  Please share your favorite summer memories with us here.