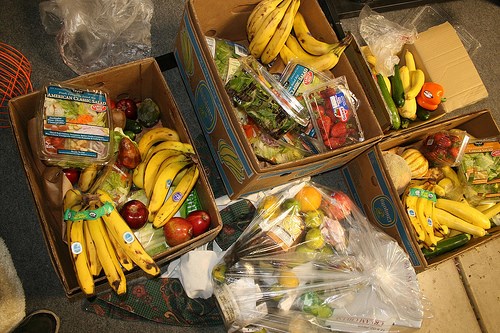 Wasted Food: A Challenge
By Jonathan Bloom
Author, American Wasteland
In the last post, I answered that most vexing of questions: Why should I care about food waste? Given its environmental, ethical and economic impact, the logical next question is: What can I do??
You'll never guess what my first bit of advice is: Waste less food!
Sure. But how? The short answer is to become a smarter shopper. Here's another way of saying that: buy less food. Period.
Most of us buy so much food that we almost guarantee we'll waste food. There's no way we can eat all that we purchase. The best estimates are that we throw away 25 percent of the food we bring into our homes.
So here's my challenge to you: buy 25 percent less food in the next few weeks. I bet you'll end up throwing away (or composting) much less food (although, to be fair, some of that may come from a general increased awareness). And you'll also be avoiding some serious wasted cash. Whatever happens, let me know!
And we invite you all to stop by and see Jonathan during our Earth Day Celebration tomorrow - April 16th! Rain or shine, we'll be out in the Briar Patch at Briar Chapel (the Briar Club should we have inclement weather) so come by pick up Jonathan's book, American Wasteland, talk to The Abundance Foundation, grab a brew from Fullsteam Brewery, learn about gardening and much more!