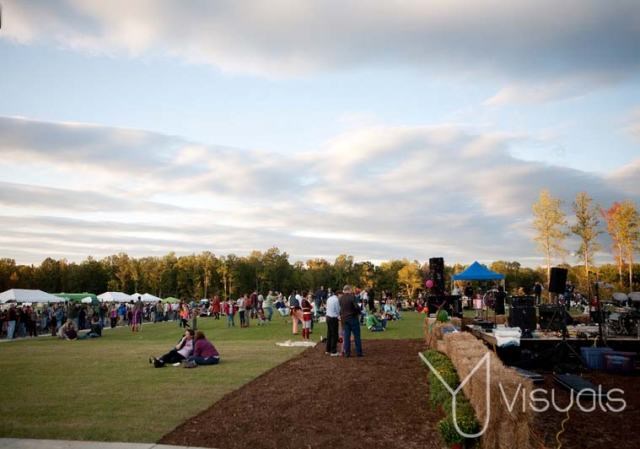 2011 - A Year in Review at Briar Chapel
by Shannon McSwiney
Marketing Manager, Briar Chapel
It's that time of year again…A time when many people are looking ahead toward the new year, making resolutions, reflecting on the past and vowing to do more (or less) than what they did the year prior. At Briar Chapel we would like to take a moment to summarize the many successes and "wins" that we enjoyed as a community in 2011 along with all the great, new shiny things we have to look forward to in 2012. So hang with us for a moment as we reminisce.
Earth Day was the first major community event we all started out the year working towards; the annual 5k kicked things off and chef tastings along with the Hunt for Green were a key draw to the community. Unfortunately, severe weather dampened the festivities of the day, but thankfully we were fortunate to be out of the path of some severe devastation that was felt by the surrounding community.
Our community non-profit partners keep us passionate about local causes and continue to be an important part of what Briar Chapel is all about. The trails at Briar Chapel continue to be constructed in concert with the Triangle Off-Road Cyclists (TORC). This group also participates with us in several yearly events for trail riders where they not only get on the trails to ride, but they also offer trail education to bring awareness to mountain biking for everyone from beginner to advanced. The Abundance Foundation, is a valuable community partner that educates the public about renewable energy, local food and the community. We had the pleasure of working with them and the local schools in a very important initiative surrounding healthier, more nutritious lunches in our school cafeterias. The Chatham County Arts Council, Green Home Builders of the Triangle, and neighboring community were all a pleasure to collaborate with and support this year. Each entity stands for an important cause that ties back to the core values of what Briar Chapel and Newland Communities are all about – green building, sustainable living, innovative art, education and wellness.
We ended 2011 with an increase in sales of 13% from 2010 – and have been increasing incrementally each year since grand opening. New builders joined our team to fully round out the home offerings we bring to potential buyers. And sales prices have remained consistent = home values are only on the rise in the community. In September, the community celebrated its third anniversary right about the time we were welcoming our 200th resident! Briar Chapel moved up the rankings among the Triangle's top communities for annual starts from top 10 status to #3 the second half of the year!
October was a fantastic opportunity for Briar Chapel to host the Amazing Pittsboro Pepper Festival put on by non-profit organization, The Abundance Foundation. This festival, in its 4th year, was an amazing day of celebrating community togetherness and all things local as 1,000 people converged on Briar Commons Park.
Not only did we enjoy the community celebration of Pepper Festival in October, but we also opened our newest neighborhood with 174 new home sites and community park, Briar Commons – a great 1.5-acre open space with amphitheater and formal lawn area for festivals, concerts, movies, and wide open relaxation!
Our onsite activities director has brought our residents a full year + of planned activities and fun for the whole family to enjoy at the pool, in the club, at the dog park and on the trails. And our onsite HOA manager has been available to uphold procedures, processes and continuity that our residents have come to appreciate and enjoy as part of what they "bought into" when they chose a home in Briar Chapel. Our residents continue to make the community vibrant with their enthusiasm to experience new things and welcome new families. It's great to see so many familiar faces along with the new faces that join us daily.
So if I had to sum 2011 up into one phrase, I would have to say "Creating Community". When I reflect on the many great things that were enjoyed or celebrated at Briar Chapel, they all had to do with being active with or being surrounded by a community. Big or small, a community is only as strong, vibrant, active, AMAZING as the people that live there, and I'm proud to say we have one amazing community in which we live, work and play right here in our neck of Chatham County!