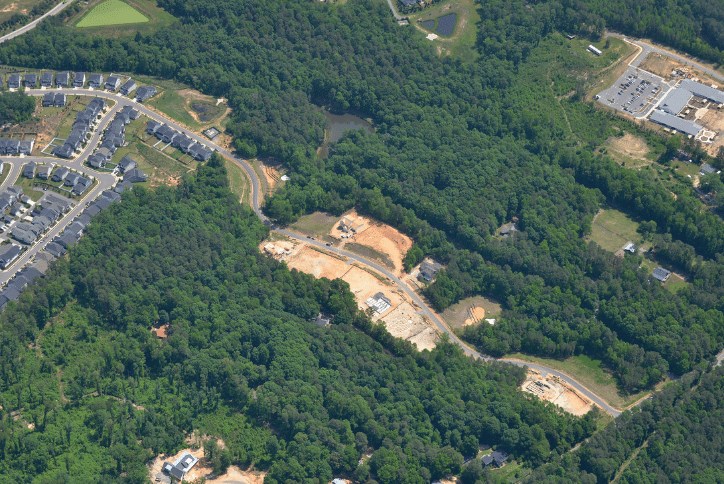 We saved the best homesites for last: Briar Chapel's final phase
Want the amenities that come with living in Briar Chapel without sacrificing space and privacy? Briar Chapel's final phase of custom homes offers the best of both worlds. 
Design
Briar Chapel's final phase will consist of 15 completely custom homes from McNeill Burbank and Homes By Dickerson. These will be the largest homesites offered at Briar Chapel, at a minimum of half an acre of land, and the homes reaching 4,500+ square feet. The homes are in a private enclave with beautiful greenspace and wooded surroundings.
A short distance from Briar Chapel's Woods Charter School, Primrose Daycare, Parkway Family Dentistry, and more, these homes are perfect for any family looking to grow in the community.
McNeill Burbank Homes
McNeill Burbank has worked with Briar Chapel from the beginning and is excited to be a part of the final phase and complete 13+ years with Newland. These homes will be the largest square footage home McNeill Burbank has built with Briar Chapel and the first time it's large-scale homes will be built with a bolder and edgier style that is loved by Briar Chapel homeowners.
Luke Bhothipiti, sales consultant for McNeill Burbank, is excited to be a part of the final phase of Briar Chapel:
"McNeill Burbank is thrilled to offer single-family, custom homes in the final phase of the Briar Chapel community. Our opportunities will be available on spacious wooded private homesites within Briar Chapel. House plans will feature double-story homes with 4-5 bedrooms, 3-4 full baths, open floor plans, first floor owner & guest suites and 3-car garages. Each estate home by McNeill Burbank will showcase designer fixtures and finishes, custom trim work, and professional grade appliances."
View available McNeill Burbank homes at Briar Chapel here.
Homes By Dickerson
Homes By Dickerson has been building in Briar Chapel since 2010 and describes the final phase as "bittersweet." It is offering a wide range of 3,000-6,000 square foot, 3-6 bed, home plans from its Estate Collection. Peter Winkler, community sales manager for Homes By Dickerson, is also a resident at Briar Chapel.
"Ever since my family moved into Briar Chapel back in 2009 (the 5th to do so), we have enjoyed watching the community take shape and sharing the wonderful lifestyle we have with others. Newland did an incredible job incorporating resident and builder feedback to design amenities and homesites that were relevant to today's lifestyle. Therefore, it's no surprise that Briar Chapel has been one of the top selling communities in the Triangle for many years."
View available homes by Homes By Dickerson here.
David Weekley Townhomes
New Townhomes from David Weekley Homes are now selling in Briar Chapel, with two models ready to tour. These highly anticipated townhomes are an exciting addition to the community and will range from 1,949 square feet to 2,821 square feet. David Weekley Homes will offer five different two-story floor plans ranging from two to four bedrooms and two to three bathrooms. 
Ryan Wells, division president in Raleigh with David Weekley Homes, is excited to complete the residential side of Briar Chapel with these townhomes. 
"The townhomes are a great finale to the residential side of Briar Chapel as we have blended modern architectural exteriors, complementary of The Veranda's commercial space, with traditional interior floor plans, bringing together the best of both worlds," said Wells.
View available townhomes here.
Last Chance to Join Briar Chapel
This will be one of the last opportunities to buy a brand-new Briar Chapel home. With a variety of amenities including a resort-style pool, water park, fitness center, outdoor courts, 20+ miles of trails and more, you won't want to miss the opportunity to join the Briar Chapel community.
Browse Briar Chapel's website to learn more about the amenities, lifestyle and events you won't want to miss.