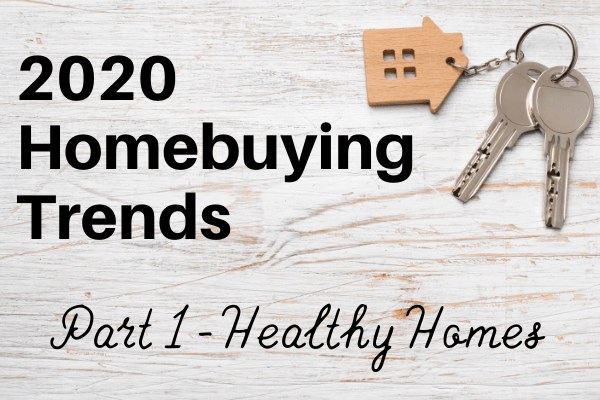 Part 1: 2020 Homebuying Trends - Healthy Homes
The role of the home in our culture has always evolved in tandem with the dominant values of society, and the residential real estate market is once again transitioning to respond to America's burgeoning priorities – efficiency, accessibility, flexibility and safety. Just as the car once served as the cornerstone for post-World-War II life, the home has surfaced as culture's new centerpiece.
Next-wave trends reveal a demand for high-performance home designs. 
A Healthier Way: New, High-Performance Homes
The modern home has transitioned from a launchpad for travel and activity into a safe haven for all facets of life. Homebuyers are placing a hefty emphasis on a healthy living environment bolstered by systems that protect hygiene and sanitation. For starters, new-construction homes are skyrocketing in popularity, since they offer a controlled atmosphere that minimizes external influences.
 "We've seen a high interest in new homes rather than resale, because buyers want to know the conditions into which they are moving," said Peter Winkler, sales agent, Homes By Dickerson, a builder for Briar Chapel. "Homebuyers want a fresh, clean environment tailored to personal styles with materials of their choosing."
Buyers are also gravitating towards high-performance, green-built houses that not only offer energy efficiency and lower operating costs but also ensure a cleaner, more comfortable abode. For example, homes in Briar Chapel are built according to the rigorous, third-party tested NAHB standards, and our sustainability standards save residents an average of $607 in energy bills annually.
Green-built homes also regulate interior materials. Homes By Dickerson, for example, minimizes harmful off-gasses by installing eco-friendly carpets and cabinetry free from formaldehyde. Naturally antibacterial materials, such as quartz, are topping the list of "must-haves" for the new kitchen along with VOC-free paints and tiles.
"The attraction is new construction, and when they get here, homebuyers realize that not all new construction is the same," said Peter. "The real demand is for high-performance, green homes."
Looking for your own green-built home? Check out the homes at Briar Chapel!
---
Located in Chapel Hill, North Carolina, Briar Chapel offers new homes from the high $200,000s. Explore Briar Chapel's resort-style amenities, parks, trails, shopping and on-site schools, a community that has been named Best Neighborhood in Chapel Hill for five years running!