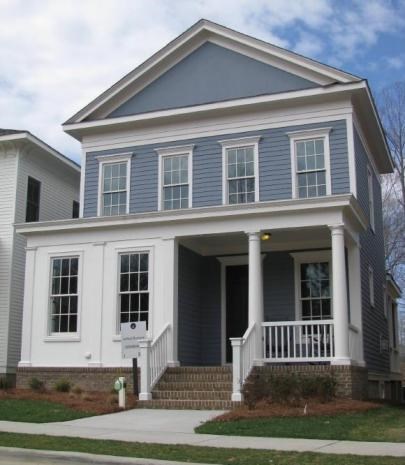 Residents Immediatetly Found Saussy Burbank to be the Right Choice
By Heather Campbell
Customer Relations Coordinator
Joe and Betty first discovered Briar Chapel in July of 2010.  They soon realized that, for Saussy Burbank representatives, there is no "quitting time".  They found the staff answering questions and requests at all hours with no hesitation … and they found their Saussy Burbank home to be the perfect place for them very shortly after that initial discovery.
"When we needed to find a home, we needed to do so quickly and we needed to find a home that could be moved into in a relatively short period of time" Joe told me.  "Saussy Burbank Staff was able to work with us late in the day, field numerous questions and requests from us by phone and e-mail at all hours and helped us decide in less than 48 hours that our home was the right home for us in NC.  Despite our home being already 'built', they worked with us as if we were building the home from scratch, allowing us to make critical choices.  They made us feel like a true partner in the home purchasing experience."
When asked what they might say to someone in the market for a new home, they responded "Saussy Burbank builders offer a great variety of styles and floor plans for their homes in Briar Chapel, allowing the potential buyer a broad choice from home and a price perspective, all while wrapped into an incredibly beautiful community that is great to live in.  Their staff is knowledgeable about their products, the Briar Chapel community and they react to the needs and desires of the buyer" they said.  "Most importantly, they stand behind their product.  Anything under warranty that needed to be taken care of was handled beyond expectations."
Customer service and appreciation, affordable pricing and value, and quality all helped them decide Saussy Burbank was the builder for them.  "Saussy Burbank offered a variety of home styles at competitive and affordable pricing levels. When a job forces you to move from one area to another relatively quickly, the buyer has to worry about best 'bang for your buck'. Saussy Burbank homes in Briar Chapel did that for us!"
And favorites about their home?  They find it impossible to pick just one.  But they do have a few things they feel stand out.  "The first level floor plan is perfect ... the huge, open area for living, eating and cooking is reminiscent of our beloved condo in Chicago and with an oversized master bedroom and bath, a half bath, an office area, laundry and two porch areas, the first floor is a 'home' all by itself!  And after 32 years of marriage, 4 kids and moving a lot, you wind up with a lot of stuff.  The second-level, oversized walk-in storage area was the room that put our home into the lead position as the one we wanted. That area, with an ability to be built into an extra room at a later time, was the clincher and makes it one of the home's best aspects."
Take a look for yourself at the wonderful floorplans Saussy Burbank has to offer.  This dedicated builder may be able to help make your home-buying decision an easy one, as well.