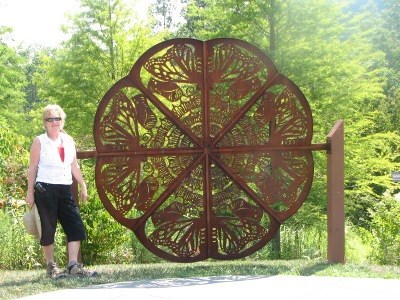 Art of Living Featured Artist; Grace Cathey
by Shannon McSwiney
Marketing Manager, Newland Communities
Architecture, landscape, history and community art come together to create the heightened quality of life at Briar Chapel that has been fueled by the area's long-standing tradition of arts and culture. As the community continues to grow, public art will continue to be woven through the fabric of the community invoking a sense of place, utilizing various mediums and materials, and containing an educational or interactive component – our newest art installation is no exception. We are excited to have commissioned Grace Cathey to provide a unique piece of environmental art from her extensive gallery – which will be installed at our newest community space The Briar Patch.
Inspired by natural beauty around her home in the Western North Carolina Mountains, Grace works exclusively with metal. She has delivered with the beautiful Metamorphis sculpture, which features a caterpillar changing into a butterfly, in a 9' by 8' metal sculpture. We are pleased to talk with Grace today as we learn more about how her artwork moves from concept to incorporation into a public art installation.
A little bit about the artist…Grace's work has been evolving over 20 years from fiber, to works on paper, to metal sculpture. Her passion to create has been constant and her inspiration comes from the flora and fauna that surround her home, tucked into a deep cove in the Western North Carolina Mountains. Grace translates her daily experiences with the beauty of nature around her into her metal sculpture, which expresses her quality of life. Grace explains that in each work, a bit of her spirit is cut deep into the steel.
The creative experience…the Metamorphis trellis Idea came to me as a large kaleidoscope sculpture. Being a nature artist, I felt the life-cycle of a butterfly would express the beauty of nature while also telling an educational story. When I saw the site of Metamorphis' new  home  at Briar chapel I was so happy thinking of how many people will enjoy this sculpture for years to come. The Briar Patch is the perfect setting for my creation… thank you – I am so proud..  
In conclusion…Grace remains in love with large-scale sculptures and applies her work to public arts efforts that place her pieces in streetscapes, museums, collections and parks across the country. She has works displayed at the United States Botanic Garden in Washington D.C., in the North Carolina Arboretum in Asheville, made appearances on HGTV, and even created a handcrafted ornament that hung on the White House Christmas tree in 2008.
From artwork placed throughout the state of North Carolina and around the globe, Grace remains grounded and is thankful for her knowledge and skills in welding being launched at Haywood Community College in Waynesville, NC. We are fortunate to have connected with Grace to bring our vision of community and art for this particular space together as one.
We hope you will come to The Briar Patch at 1 pm on September 25 to see the unveiling of the beautiful piece created by Grace Cathey - you can cool off with ice cream from Maple View Farm as you enjoy the artowrk, landscape and meandering path among the garden! For more information about the event and the artist.