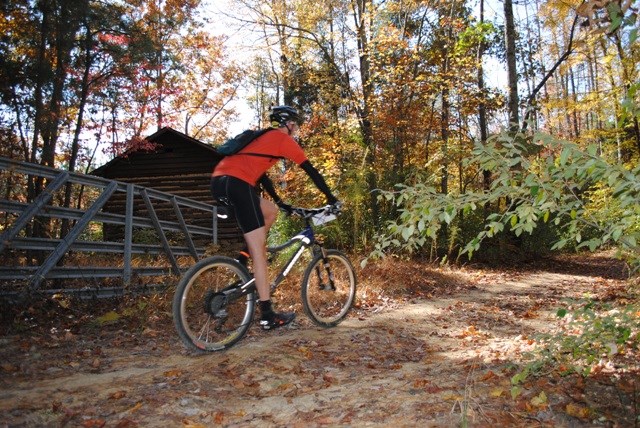 TORC Plans New Trail Section at Briar Chapel
The Triangle Off-road cyclists is the wonderful group of mountain biking pros that we work closely with at Briar Chapel from trail buliding, organized trail rides and events onsite to their own host of meet-up events planned around the Triangle. This is the "go to" organization for trails! We thought it would be nice to share a recap of their 2011 year and the great things they have planned for 2012 - including a NEW section of trails at Briar Chapel!
TORC - 2011 Chapter Report
by Matt Jenkins on December 4, 2011
11-18-2011
This year has been another busy one for TORC. We've completed a major rework of the east side of Lake Crabtree County Park in Morrisville.  This rework rehabbed older trails with sustainability and usability issues into a model trail system. The feedback has been very positive and we are looking forward to working on the remaining half of the park soon. Also at Lake Crabtree this year saw the grand opening of the intermediate/advanced jump line. The jump line has proved to be very popular and it has really brought some parts of the biking community together that historically have not interacted well in the past. Harris Lake County Park has also seen some additions this year with a new skills area close to opening.
We also have several new projects getting ready to start.  One of these projects, Campus Hills, is a small gateway trail system in Durham, NC. The park is in close proximity to the American Tobacco Trail network, and it should offer the surrounding neighborhood a new opportunity to experience single-track trails. In addition, a City of Raleigh park, Forest Ridge is soon to break ground.  This park has been many years in the planning, but it looks like the hard work is paying off and mountain bike trails should be in the first phase of the park. A new section of trail is planned at Briar Chapel for this winter. This section should prove to be a real showcase of the area with some tough climbs in very bouldery terrain. Finally, the RTP trail system is planning its second phase. The system currently consists of 2 miles of well-built trail near the many employees working in Research Triangle Park. This next phase should more then double the current length of the system.
For a link to the full article, click here.