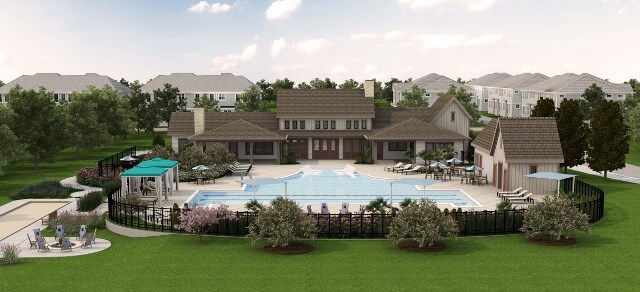 3 Tips to Choosing Your Retirement Haven
Find the Perfect fit for you and your family.
With kids grown and retirement rounding the corner, many empty-nesters crave a downsized, cozy haven suited to an active lifestyle and favorite pastimes. The Triangle market runs the gamut with age-qualified living offerings. Age-restricted villas? Single-family suburban homes? Multi-level urban apartments? The sheer volume of options can overwhelm even the most savvy homebuyer.
At Briar Chapel, we've done the legwork for you. Our newest segment, Encore by David Weekley Homes, simplifies the process. We provide customized age-qualified villas with top features that 55+ homebuyers want most.
When weighing new home options, our experts recommend that you consider these three elements.
 1. Single-Story Living
Slip on your house shoes and stroll to the kitchen for a hot cup of java – all in just a few short steps. Single-story floor plans offer an easier way of life. Choose an open floor plan that allows mobility and access to storage without the inconvenience of stairs or attic ladders. Encore's 10 home designs, for example, all offer single-story floor plans with open living areas, "owners' retreats" (master suites) and spacious master closets.
 2. Low Maintenance Homes
Fill your days with movie nights, card games with the grandkids, walks with friends or poolside afternoons with a book – not with yard work. Opt for a home that requires little or no outdoor maintenance. Encore, for example, includes outdoor yard maintenance as a part of the HOA offerings.
  3. A Supportive, Active Community
Downsizing your abode doesn't mean downshifting your lifestyle. Look for a community with an existing social network and opportunities to quickly get involved. At Briar Chapel, Encore is nestled in the center of an established community surrounded by families of all ages. In addition to the separate clubhouse and pool reserved for Encore use, Encore residents can also enjoy the full range of Briar Chapel's amenities, such as 24 miles of trails and 20 parks. And there's never a dull moment with our full calendar of events that includes the annual Pepper Festival and Music in the Meadow outdoor concerts. It's all here waiting for you.
Want to explore what could be your new home at Briar Chapel? For more information about Encore or to schedule your appointment, call Melissa at 877-542-9240 or email msziksai@dwhomes.com