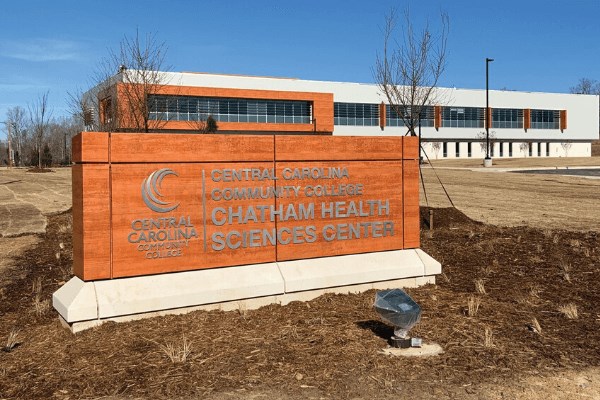 Briar Chapel Welcomes College Campus
January marks a season of new beginnings, including the new branch of Central Carolina Community College (CCCC). CCCC started classes at its Chatham Health Sciences Campus on-site at Briar Chapel on January 13th, offering courses and programs on health and well-being as well as a flagship program of Medical Assisting.
Check out all the details from this article recently published in the Chatham News & Record!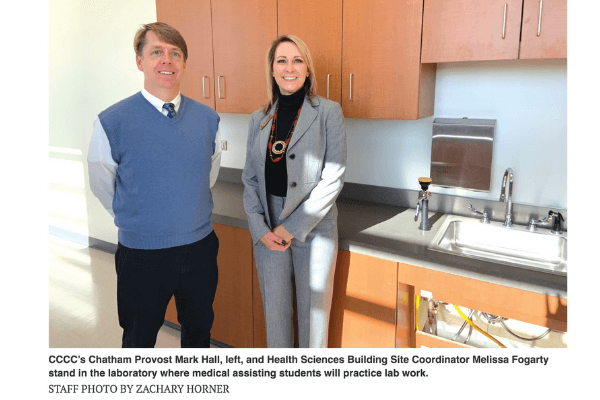 CCCC to open Chatham Health Sciences building on Jan. 13
By Zachary Horner
News + Record Staff
CHAPEL HILL — While speaking to a visitor about the soon-to-be-opened Chatham Health Sciences Center during a recent morning, Mark Hall was interrupted by a fire alarm.
A worker soon came to tell him it was just a test, that there was no real fire.
About a month prior to that building's opening, it was a good sign that things were coming together.
After a couple of delays, the Chatham Health Sciences Center will open to classes on Jan. 13 as the newest building of Central Carolina Community College's footprint in Chatham County.
"What we try to do in the community college system, and at this community college in particular, is have locations where people can get education and workforce training closer to their homes so it's not a burden on them," Hall, the Chatham provost for CCCC, said after the working fire alarm was silenced. "That's a burden that a lot of our student population, it's really hard to do that. We're trying hard to remove those obstacles by having those locations."
As Hall stated, the CHSC gives the community college a presence in and around the Siler City, Pittsboro and Chapel Hill markets, the three most dense areas in Chatham in terms of population.
Classes at the CHSC are going to be focused almost entirely on health and well-being, led by the flagship program of Medical Assisting. The first class of the one-year program is already in session on the Pittsboro campus and will move to the new building when it opens in a couple weeks.
Melissa Fogarty is the program director and lead instructor of the Medical Assisting program, as well as the site coordinator at the CHSC.
"A lot of people confuse us with nurses," Fogarty said. "A medical assistant primarily works in practices. Literally we do everything in the practice except being the doctor. We're that doctor's right hand person."
Everything from the front office — checking in patients, taking phone calls, building medical records — to taking vital signs, drawing blood and doing lab tests. In the new building, students will be able to practice all of them. There's a mock doctor's office, including medical beds, a receptionist's window and a lab for blood tests.
Medical assisting joins massage therapy and health and fitness science as the three main programs that help identify what the building is all about, Hall said.
"We're going to have three programs centered around helping people live better lives, more healthy and better lives," he said. "That's what we're excited about, having this presence up here and training people in this area."
Classes kick off later this month with Medical Assisting courses, as well as continuing education classes in Emergency Medical Technicians, fitness instructor prep, group fitness classes and yoga sessions. To learn more about what's available, visit cccc.edu/chsc/.
Fogarty said she was excited to be a part of this new venture.
"I'm super excited that we'll be in this area and pull from this area in Chatham County and get the medical assisting name out there," she said. "It's so exciting to think we can pull from Orange County, Chatham County, even people that are in Sanford, Raleigh. So we're in now in this wonderful location that we'll be able to pull from a lot of areas."
Reporter Zachary Horner can be reached at zhorner@chathamnr.com or on Twitter at @ZachHornerCNR.
Things to Know about the CHSC
Slated to open for classes on January 13, 2020
Construction cost: $13,052,677
40,000-square foot building, located on U.S. Hwy. 15-501 near Briar Chapel
Third CCCC campus in Chatham County
*Images courtesy of the Chatham News & Record. Photo Credit: Zachary Horner.