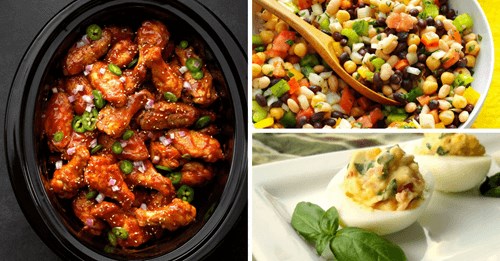 Recipes: Red, White and Tasty!
Unfurl the tablecloth, fire up the grill and pop open the drinks! Each July 4 is a treasured time to celebrate not only our American legacy but also time with loved ones.
As you're planning your festivities, there's no need to sweat this year's menu. Our Briar Chapel staff has shared their recipe favorites to furnish your all-American feast.
Briar Chapel's July 4 Menu


Talk About This Guac! (Guacamole)
Customer Relations Coordinator
Ingredients
2 large ripe avocados
½ cup of diced red onion
1 large tomato
1 lime
1 teaspoon garlic salt
¼ cup of chopped cilantro
½ teaspoon chili powder, salt and pepper to taste. 

Directions
Mash avocados in a bowl until they are your desired consistency. Add red onion, diced tomato, garlic salt, chili powder and chopped cilantro to mashed avocado. Cut the lime into 4 wedges and squeeze lime juice into mixture. Combine and add salt and pepper to taste! Hint: taste your guacamole on a chip so you don't over-salt. Enjoy!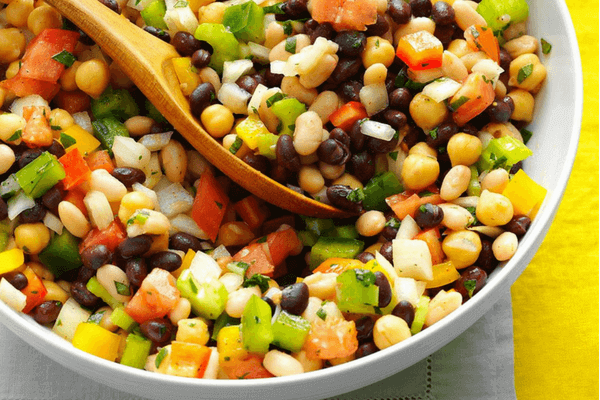 Photo from Taste of Home
Marinated Three-Bean Salad (from Taste of Home)
Shannon McSwiney, Vice President, Marketing
Ingredients
1 can (15-1/2 ounces) great northern beans, rinsed and drained
1 can (15 ounces) chickpeas, rinsed and drained
1 can (15 ounces) black beans, rinsed and drained
1 medium tomato, chopped
1 medium onion, chopped
1 celery rib, chopped
1/3 cup each chopped green, sweet red and yellow pepper
1/2 cup water
3 tablespoons minced fresh basil or 1 tablespoon dried basil
2 tablespoons minced fresh parsley
2 tablespoons lemon juice
2 tablespoons olive oil
1-1/2 teaspoons minced fresh oregano or 1/2 teaspoon dried oregano
1/2 teaspoon salt
1/2 teaspoon pepper
1/4 teaspoon cayenne pepper

Directions
In a large bowl, combine the beans, tomato, onion, celery and peppers. In a small bowl, whisk the remaining ingredients; gently stir into bean mixture. Cover and refrigerate for 4 hours, stirring occasionally.
© 2018 RDA Enthusiast Brands, LLC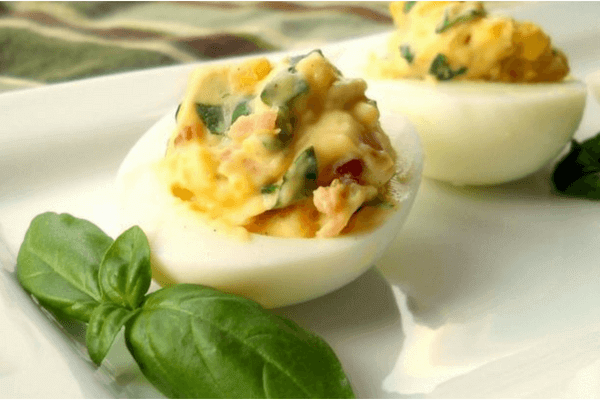 Garlic, Basil and Bacon Deviled Eggs (from AllRecipes.com)
Hunter Matthews, Marketing Director
Ingredients
12 eggs
2 large cloves garlic, pressed
5 slices bacon
1/2 cup finely chopped fresh basil
1/3 cup mayonnaise
1/4 teaspoon crushed red pepper flakes
salt and pepper to taste
1/4 teaspoon paprika for garnish

Directions
Place the eggs into a saucepan in a single layer and fill with water to cover the eggs by 1 inch. Cover the saucepan and bring the water to a boil over high heat. Remove from the heat and let the eggs stand in the hot water for 15 minutes. Drain. Cool the eggs under cold running water. Peel once cold. Halve the eggs lengthwise and scoop the yolks into a bowl. Mash the yolks together with pressed garlic with a fork.
Cook the bacon in a large, deep skillet over medium-high heat until evenly browned, about 10 minutes. Drain on a paper towel-lined plate; chop once cool. Add to the mashed egg yolks. Stir the basil, mayonnaise, red pepper flakes, salt, and pepper into the mixture until evenly mixed. Fill the egg white halves with the mixture; sprinkle each stuffed egg with a bit of paprika.
ALL RIGHTS RESERVED © 2018 Allrecipes.com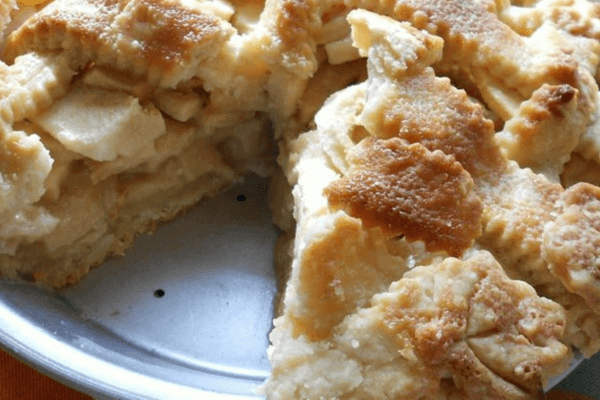 Photo from AllRecipes.com
Apple Pie by Grandma Ople (from AllRecipes.com)
Jessica Collins, Marketing Coordinator
Ingredients
1 recipe pastry for a 9-inch double crust pie
1/2 cup unsalted butter
3 tablespoons all-purpose flour
1/4 cup water
1/2 cup white sugar
1/2 cup packed brown sugar
8 Granny Smith apples - peeled, cored and sliced

Directions
Preheat oven to 425 degrees F (220 degrees C). Melt the butter in a saucepan. Stir in flour to form a paste. Add water, white sugar and brown sugar, and bring to a boil. Reduce temperature and let simmer.
Place the bottom crust in your pan. Fill with apples, mounded slightly. Cover with a lattice work crust. Gently pour the sugar and butter liquid over the crust. Pour slowly so that it does not run off.
Bake 15 minutes in the preheated oven. Reduce the temperature to 350 degrees F (175 degrees C). Continue baking for 35 to 45 minutes, until apples are soft.
ALL RIGHTS RESERVED © 2018 Allrecipes.com