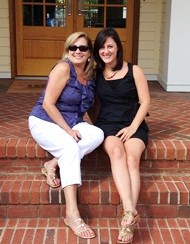 The Adventures of Jami & Kathy
Jami Pearson
Customer Relations Representative
As a North Carolina State University graduate (GO PACK!) and resident of Raleigh for the past six years, I know the area fairly well. Whether it's dinner at Humble Pie, runs at Lake Johnson or beach music night at North Hills, I've spent countless hours out and about in our great state capital.
| | |
| --- | --- |
|   | A huge advocate of supporting local, I'm always biting at the bit to check out a new restaurant or event as soon as I catch wind of it. That being said, since my employment at Briar Chapel in January 2012, I haven't had a chance to venture out and explore all that the Chapel Hill/Carrboro/Pittsboro area has to offer. It seems like every week I'm involved in a conversation with a co-worker who's ranting and raving about such-and-such, "a fabulous local restaurant" or the "the best kept secret in town," as I sit practically drooling, ready to run out the door in whichever direction the aforementioned establishment is located. Unable to handle not being in-the-know any longer, I'm on a quest to discover all that this trio of towns has to offer. |
Now, I'm sure you're wondering, "Will she go it alone?" Of course not! Adventures are much more fun when you have a partner in crime (and it doesn't hurt that she drives a ridiculously cute convertible). Joining me will be Kathy, my co-worker and friend. Just like salt and pepper, peas and carrots, Laverne and Shirley…this Briar Chapel duo will report back to you on all of our findings via YouTube and the Briar Chapel Blog. I hope you're as excited as we are!
Have a place you think we should visit? We're open to just about anything – foreign food, museums, workshops, etc. Leave us a comment below, and we just might have to check it out!