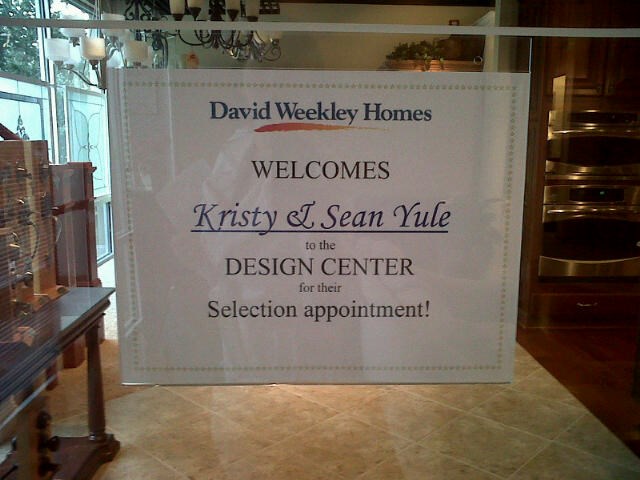 Design Center Tips
by Kristy Yule
Personalizing our home was one of the major perks of purchasing a new home and the process we were most looking forward to. Today I will share with you our experience and some tips we found helpful in selecting features for our home.
Our builder, David Weekley Homes, has an extensive design center process that includes: a preview meeting, two 4-hour design appointments and a color verification meeting.
The preview meeting is designed to demonstrate the types of selections and the number of design choices needed for your new home. We had diligently researched (30+ hours!) color choices and materials that we wanted for our home so we felt more than prepared for the process. However, we quickly learned at our preview meeting that in addition to the top of mind choices of cabinets, flooring, countertops, etc, we would also need to select door colors, grout, lighting and so on.The challenge would be to stay alert and engaged in this very detail-driven process so that we would achieve our desired result.
Luckily for us, our builder had some very helpful tools.
All about Me Survey- I shared information about this tool in our last update . This tool is designed to get you thinking about how you will use the spaces in your home.
Room Style search- This tool displayed photos of different styles of homes in David Weekley communities across the country. Casual to formal and everything in between, we were able to highlight several options that resembled our dream home.
These tools were helpful to the design consultant, as they gave her an idea of our preferences as a couple, but the best tool for helping us to make final decisions was our Design Consultant!
Design Consultant- At each appointment we met with Kim, the local design center manager. From our many hours of research and discussion, we were certain of what we liked. However, choosing selections that would look cohesive throughout the home once installed was definitely a skill set we did not have (who knew there were so many grout color choices?). Kim was very knowledgeable and experienced in helping us through this very detailed, important and sometimes emotional process. The ability to thoroughly discuss our ideas and selections and the time between the 1st and 2nd meetings to "think over" what we chose helped to make this process go smoothly. We were able to complete our interior selections in less than three hours! After going through this process I thought I would share some tips with you that we found helpful: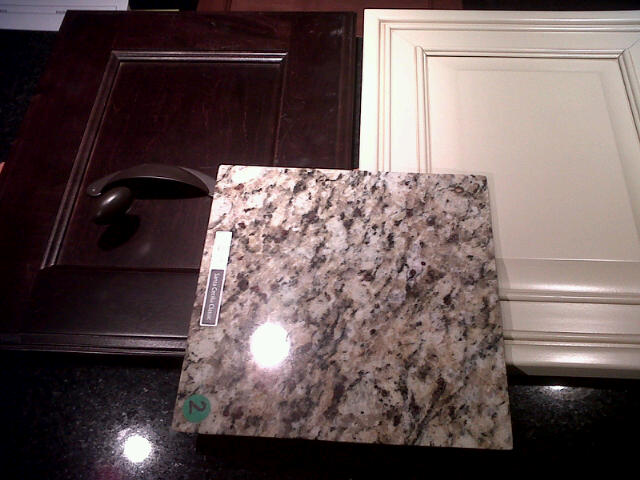 Pictures, Pictures, Pictures! - Invest inseveralhome decorating magazines. I think all in all, we spent around $50. This was money well spent as it helped us to identify what we liked.
Next, tour model homes/market-ready homes. It's one thing to see selections in a magazine and another to see them up in a home. This can be a very enjoyable activity for the family -- just don't forget your camera!
Consider your personal style. Are you casual/comfortable or sophisticated/trendy? Do you like to try new things or is classic more your speed? This will greatly aid you as you select features in your new home.
Talk to friends/family - How does your mother-in-law feel about that stone floor in her kitchen? Did your aunt grow tired of the white cabinets? Did your friend regret installing carpet versus hardwoods on her stairs? Getting feedback from people you trust will be helpful in deciding if a particular design choice is a good one for you and your family.
Set your budget, and prioritize! If you have pre-determined the maximum amount you are willing to spend on upgrading your house, use this preliminary list as your guide, and prioritize items with a color-coded system. We highlighted our list by "can't live without" items first, the "next in priority" items in a second color, and the "maybe if I stretch it" items in a third. This type of system was very helpful for us as it kept us focused when faced with all the wonderful options we had to choose from.
With our selections made we were ready for the next step, our pre-construction meeting. Check back next week to see how the physical construction of our home gets underway.