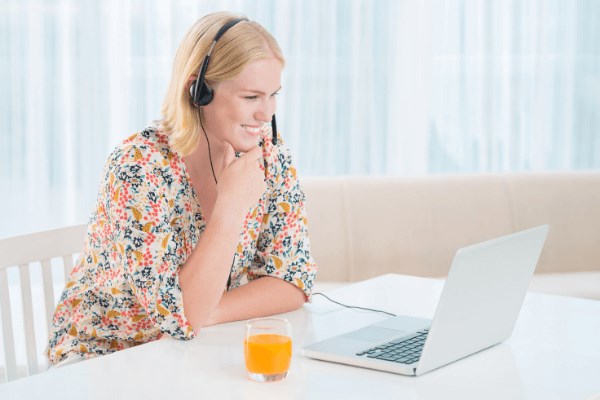 Get the Most from Your Virtual Home Tour
Even though stay-at-home orders are in effect, your long-awaited home search doesn't need to go on hold. At Briar Chapel, we offer several ways to view your future abode, including virtual tours of every model home and inventory home.
For a real-time experience, ask your real estate agent to conduct a live, on-site video tour via a streaming service, such as Skype or FaceTime. Effective and interactive, live video tours provide you a sense of layout, scope and size that can be often overlooked in pictures. Here are tips to make the most of your virtual tour with your real estate agent.  
Plan your technology.


Prior to your appointment, coordinate with your realtor to ensure you agree on the technology for the tour, such as FaceTime, Google Hangouts, Skype or Zoom. Your real estate agent should also verify that he or she will be able to access the app via the home's WIFI, if applicable, or via cellular data.

List your favorites.

Take a moment to view pictures of the house and familiarize yourself with the floor plan online prior to the virtual tour; list elements that are must-haves for your family, such as a spacious family room, ample kitchen storage or a comfortable master suite. Then ask your realtor to spend extra time showing those features to ensure you get the view you need to make an informed decision.

Request size perspective.


It can be difficult to get a sense of scale over a video chat, specifically if the home isn't furnished. Ask your real estate agent to tote along a measuring tape to provide perspective for elements such as 16-foot ceilings or a spacious laundry room.

Open the doors and drawers for details.

Don't be afraid to ask your real estate agent for a closer look at any features that interest to you, such as pantry space or vanity drawers. If you need a second turn around the family room to form a better perspective, never hesitate to make that request.

Ask for a neighborhood tour.

After seeing the interior, ask your real estate agent to walk around the outside of the home to get a sense of yard size, current landscape and street view. If you're interested, request that they drive or walk the neighborhood and show you some of the amenities, such as Briar Chapel's 20+-mile trail system, resort-style pool or multitude of parks.

We are here to help you in every way we can! In the meantime, please take a look around at our model and spec homes through our gorgeous virtual tours online.
If you have any questions, please don't hesitate to ask. Happy touring!