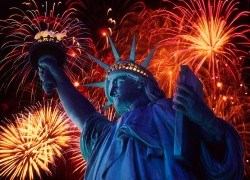 July 4th in the Triangle
Jami Pearson
Customer Relations Representative
Cookouts, fireworks, red, white and blue – It's that time of year again, friends! The 4th of July is quickly approaching, and in a few short weeks, we will be celebrating our independence and the establishment of the good ole U.S. of A. If that's not a good enough reason to enjoy the sunshine followed by dancing around with sparklers in hand (you know you do it), I don't know what is.
Whether you're heading to the coast, mountains or simply staying put this Independence Day, there's something going on practically everywhere. Need a few ideas? No problem! Below are a few neat things going on in the Triangle this July 4th.
Old Fashioned 4th of July, Horace Williams House lawn – Chapel Hill, NC
A more family focused event, if your crowd's a fan of lemonade and music, then this event might be just up their ally. From 1:00 pm – 3:00 pm, the Village Band will be playing on the front lawn of the Horace Williams House lawn. Word on the street is that Uncle Sam will be making an appearance.
The Works, Fayettville Street – Raleigh, NC
For the first time ever, downtown Raleigh will host the city's July 4th fireworks. From noon to 10 pm, this isn't just a night time event. With bounce houses, eating contests and live music, all age groups will appreciate this celebration of independence.
2012 Carrboro July 4th Celebration, Carrboro Town Hall – Carrboro, NC
Who doesn't love a little small town tradition? Kicking the day off with a July 4th parade, followed by live music, good food and family-friendly activities, this event is a must for families in the area.
Independence Day Celebration Concert, Koka Booth Amphitheater – Cary, NC
Celebrate the USA the good old fashioned way – with patriotic music and fireworks! Even though this event features both the North Carolina Symphony and the area's largest firework display, it's free!
Know of other fun things going on in the area? Comment below and let us know!