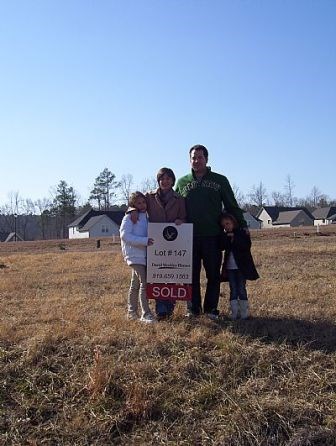 Decisions, Decisions...
by Kristy Yule
As I mentioned in my last blog post, my family decided to purchase a new home in Briar Chapel. Our next big decision was which builder to choose. We were obviously very familiar with all of the builders and their reputations. And of course all of the homes in Briar Chapel are built to Bronze level as designated by the Green Home Builders of the Triangle and Energy Star.
So we focused on price, size of home and location within the community.
Size: This was one area that had shifted for our family. Over the last decade our family has lived in homes from 1800 - 4500 square feet. When we moved to NC we rented a home that was around 3800 square feet, and we felt that was a good size at the time. Recently I had the opportunity to meet Sara Susanka and read her book "The Not-So Big House". After reading this book, my husband and I began to really look at how we used the spaces in our home. We were surprised that there were several rooms we never entered. The formal dining room was one, as was the spare bedroom. We do have family/friends from time to time, but honestly, 340 days of the year that room sits empty.  After much discussion, we decided to prioritize our house search as follows:
Must have:
Square feet: 2500-2900
3BR a must                                                                              
2.5 Baths                                                                                  
Screened Porch                                                                         
Eat-in Kitchen with room for a dining room table                            
Dedicated office space
Nice to have:
4th BR
3rd BA
Front Porch
Formal Dining Room
Location within the community: As a family, we really enjoy taking walks together and generally being outside during most of the year. Our girls love going to the pool during the summer, so we also spend a great deal of time there. In some communities, a buyer can choose their home site and then select a builder to build their home. At Briar Chapel the vision is for there to be a mix of homes and home types in each area. The home sites are then sold to specific builders, and it is the builder that sells the home and home site to the buyer. In choosing a location for our home we prioritized as follows:
Must have:                                                                                                                        
A view to open space/trees                                                                    
Walking distance to the pool/clubhouse               
A five minute walk to a trail/park
Nice to have:
Backing up to trees
Home site located next to trail / park
We also wanted a yard big enough to play, as well as plan a small herb garden but will only take 30-45 minutes for upkeep on the weekends
Based on our list, we were able to begin talks with five out of the eight builders at Briar Chapel.
We toured model homes, spoke to builder representatives and visited different home sites. We finally chose the perfect location and floor plan for our family and so we are proud to announce that we will be building our new home with David Weekley Homes! You can see a version of our floor plan here.
As spring and warmer weather approaches, many of you will begin your home search. How do you feel about your next home? What items are priorities for you and your family? Share your thoughts below.