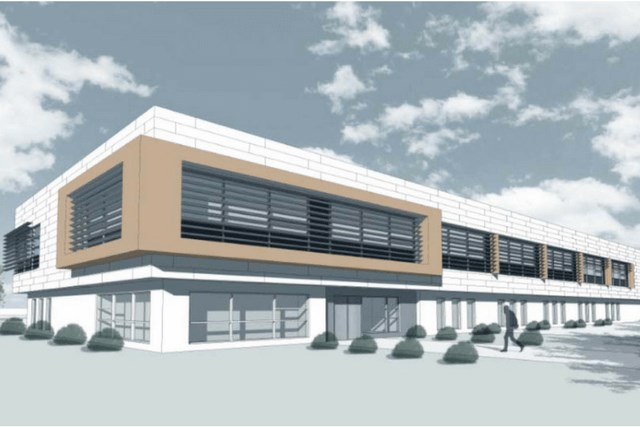 Central Carolina Community College Launches New Campus at Briar Chapel
Central Carolina Community College (CCCC) is unveiling its first health sciences facility in Chatham County, located on-site at Briar Chapel. Slated to open in fall of 2019, the Health Sciences program will offer a range of certifications, diplomas and associate degrees in the health and technology industries.
"The Trustees of Central Carolina Community College are excited to have a new Health Sciences Center scheduled for construction in the Briar Chapel area of Chatham County," said Julian Philpott, chairman, Board of Trustees, Central Carolina Community College. "It will offer exceptional educational courses of study, which will translate into great job opportunities for Central Carolina Community College students in the growing health field. We are grateful for the support of the Chatham County Board of Commissioners to fully fund a facility like this that will benefit CCCC's students and Chatham County citizens for years to come." Chatham County Commissioners have committed an investment of approximately $12 million for the facility.
The CCCC facility will include approximately 40,000 square feet, 18 classrooms and labs along with capacity for 15 faculty and staff. Commensurate with the construction standards at Briar Chapel and in accordance with Chatham County policy, the campus will be built to LEED Silver Certification standards, rigorous sustainable building standards developed by the U.S. Green Building Council (USGBC).
Named the top community college in North Carolina by Niche, CCCC and its Health Sciences program will provide short-term training opportunities and associate degrees with an option to complete additional general education courses necessary for university transfer, such as nursing degrees.
"Chatham County values our partnership with CCCC and its efforts to meet the growing demand for health-related services. We already have become a favorite destination for retirees, which means this is a very timely and necessary project," said Chatham County Board of Commissioners Chairman Jim Crawford, who also serves as a member of the CCCC Board of Trustees.
Chatham County is slated to break ground for the Health Sciences Center in summer of 2018 in Briar Chapel's second commercial segment. Located along the 15-501 corridor, Briar Chapel's second commercial phase will entail approximately 50 acres of residential, retail, education and medical offerings. Veranda, Briar Chapel's current commercial offering, opened in 2016 and boasts 42,500 square feet of dining and retail options, healthcare and legal offices and educational institutions. 
"The investment of Chatham County, the Board of Commissioners and CCCC marks a milestone in advancing Newland's own vision to ensure our county's long-term viability," said Lee Bowman, senior project manager, Newland Communities. "Education is a foundational component to developing a competitive workforce and vibrant business community in the western Triangle."
Ready for dinner? A warm mocha? Check out the rest of our commercial offerings to date, located in Briar Chapel's Veranda section!