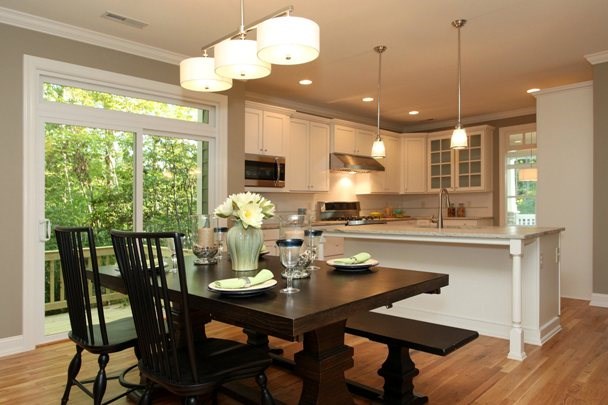 Each Homes by Dickerson Team Member Goes Above and Beyond
By Heather Campbell
When Homes by Dickerson's Vice President of Construction, Brant Chesson, took a few minutes to speak with me, I asked his opinion of what makes the company he has been with for nearly 8 years such a wonderful place to work.  "The team of people that I work with has made it a wonderful experience" he said.  "The thing that I think sets us apart is the dedication from every team member.  Everyone goes above and beyond the call of duty to make each project a masterpiece, as well as an enjoyable experience for every customer.  The team brings a wealth of knowledge of every aspect of home building from design to customer service."
What does Homes by Dickerson do to make a homebuyer's experience so enjoyable, so seamless?  Brant noted their attention to detail and dedication to customer service as what they find their customers like most.  "It starts with the sales process, where our sales agents understand that meeting a customer's needs is the first step in creating a partnership for building a new home.  From that point, our team of decorators and project manager pay close attention to detail to make each home a unique and finely-crafted project."  He went on to point out the very high standards to which their trade partners are held, so that the Homes by Dickerson requirements for design and craftsmanship are met.
"I believe Homes by Dickerson is continuing to develop new product that meets the needs of today's customer" Brant continued.  "From plan layout to energy efficiency, Homes by Dickerson pays close attention to every decision that is made for each home.  Our dedication to meet a customer's need, whether meeting before or after hours or modifying a current home, is second to none."
Brant mentioned he believes many customers are now focusing on energy efficiency and resource management.  "Our goal here is to deliver a home that has these features, but is competitively priced with other homes on the market."  He also believes buyers are paying more attention to using a home's square footage more effectively.  "By creating homes with more open space and rooms that can be used for different functions, we can decrease the size of a home and, in turn, lower the price."
Next week you'll have the chance of an up close and personal chat with one of Homes by Dickerson's happy homeowners, who will give you a first-hand account of their amazing experience.  To take a closer look at what Homes by Dickerson has to offer at Briar Chapel, visit our website.  Better yet, stop by for a visit to see these beautiful, new homes for yourself.