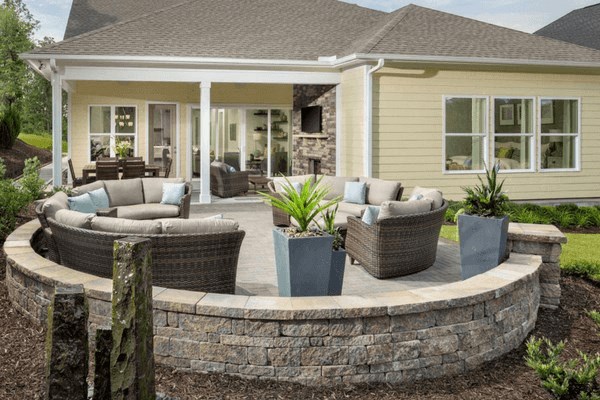 Pretty Up Your Porch
As the weather gets warmer and the days get longer, your porch becomes the perfect place to relax with your favorite book, enjoy a rejuvenating yoga session or share a meal with your family.
If your outdoor space is needing a little flounce and flair, here are five ways to make your porch one of the most stylish areas in your house.

1. Bold Blooms
Whether it's the vibrant colors or the sweet aroma, a plant can add a soothing essence to living spaces. According to Psychology Today, incorporating flowers or greenery into your décor benefits your health! In the Oberlin model from Homes By Dickerson, a few creatively placed plants create texture, color and depth while incorporating the fresh outdoors into the porch-scape. Don't forget: the container is just as important as the plant, and choosing a picturesque pot for your greenery is half the fun. Visit At Home or check out Cool Crafts to make a DIY project.

2. Blissful Birdhouses
Visits from a few feathery friends are always a treat. No matter the shape or size of your porch, a birdhouse is sure to make your space come alive with chirping guests. Find bird feeders or houses of different colors and styles at Lowes or Home Depot – or stroll around Briar Chapel to see our own collection of birdhouses.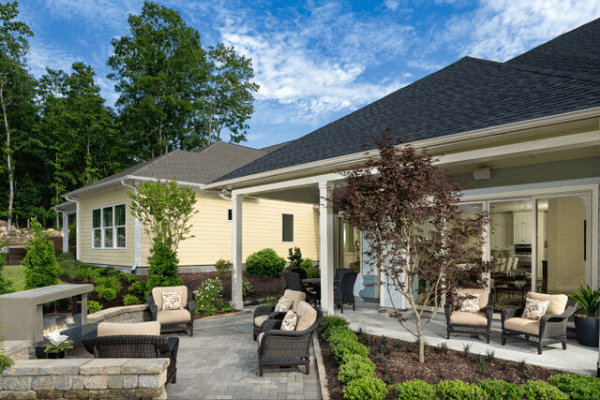 3. Porch Swings and Patio Furniture
In this model by Encore by David Weekley Homes, the patio furniture is the focal point of the outdoor space – a coveted spot to enjoy your morning java or nab a call with a friend. Whether it's a vintage rocking chair, a patio settee or a swing bedecked with colorful throws, furniture adds a finished look to your outdoor space while providing seating for family or guests. Outer, Cracker Barrel and Wayfair all offer a plethora of choices for outdoor furniture.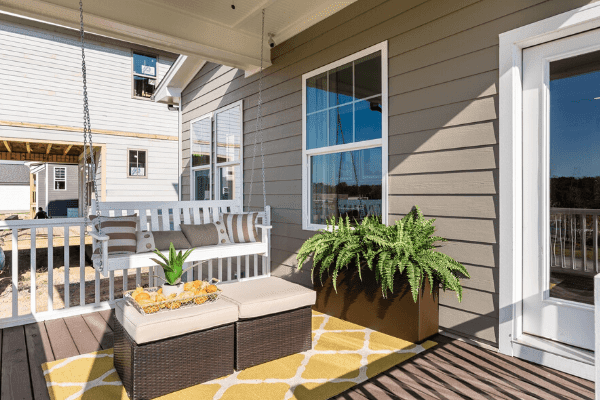 4. Outdoor Rugs
Create texture and context to your outdoor space and frame your seating area with rug. A simple addition, it can complete your color scheme and create a cohesive indoor/outdoor living ambience. In the Formosa model by David Weekley Homes, this rug unifies the outdoor sitting area and brightens the look, providing a welcoming arena for activities such as a family game night. Check out Wayfair and Home Depot for a plethora of outdoor rug options.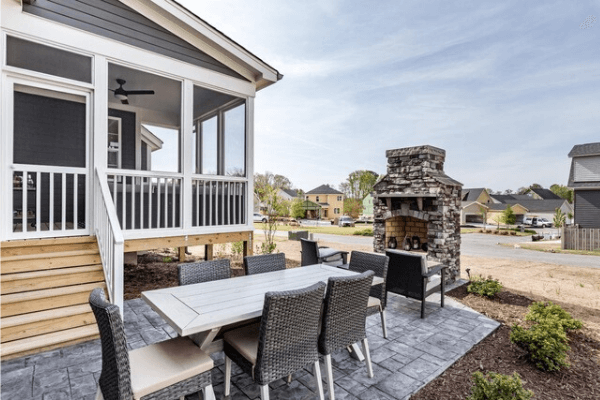 5. Open Spaces and Fireplaces!
Transform your patio into the ultimate BBQ bash zone with a fireplace or outdoor cooking area. Say hello to the new family hangout: both fashionable and functional. In this model home by Garman Homes, the stone fireplace provides a usable cooking space while adding an anchoring design feature. Whether you're roasting s'mores or hosting a summer barbeque, a fireplace in your outdoor oasis will bring you all the warm feelings. Take a peek at House Beautiful for tips on designing your ideal outdoor cooking spot!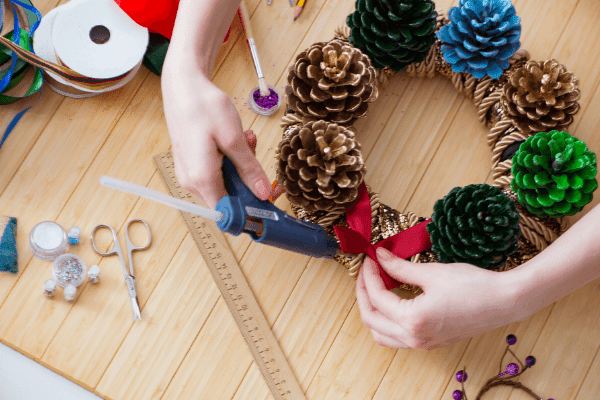 6. Accessories
Adding a dashing wreath on your door, stringing fairy lights or including a splash of eye-catching decorations personalizes your outdoor space with a welcoming feel. Check Etsy or Hobby Lobby, and if you're feeling crafty, you can make some of your own, one-of-a-kind decor. The Spruce offers clever projects to help you accessorize your outdoor space.
Looking for more outdoor fun? Check out some fun park activities you can do alone, with your dog or your family here at Briar Chapel!