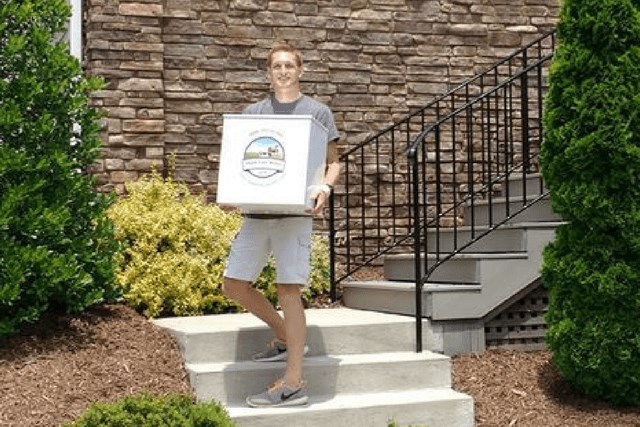 Briar Chapel's Got Milk!
You've heard your parents or grandparents nostalgically reflecting on a simpler time, a time before superstores and heavy traffic. You can picture the smiling milkman making door-to-door deliveries; you can imagine setting out your milk box, knowing you don't have to make a last-minute grocery store run for store-bought milk.
You can almost taste the fresh milk from the glass bottle, making it inexplicably better than the milk cartons on aisle three. Maybe you've wished to experience it.
Maybe you haven't realized it, but now you can.
A Fresh Partnership
Maple View Mobile, business associates of Maple View Farm, is partnering with Briar Chapel in making home deliveries to its residents, a program that took off the first week of April 2017.
All of the products from Maple View's online store are available for delivery with the hopes of eventually expanding to products like bread and eggs. The process is simple: choose from a selection of dairy products, place your order, set out your milk box every Thursday, enjoy and repeat! 
The milk is delivered in a glass bottle, not only as a tribute to the milkman era but also to provide the freshest taste and the ability to reuse them. The $1.50 charge for the bottle is taken off your order for the next week when you return the bottles, making sustainability that much easier for you.
The Great Idea
Jerry Richardson, owner of Maple View Mobile, said the idea of home delivery originally came from a Briar Chapel resident, Rebecca Ames, and is a tribute to the milkman era that most people haven't experienced in the last 50 years.  
"It's a nostalgic feeling to have that service, and we're trying to bring it back to the area," he said. "Everything we offer is locally made, grown and supported by local businesses just like ourselves. As an additional bonus, all dairy products from Maple View Farm have no added hormones and are free of antibiotics."
Rebecca got the idea from a historic neighborhood in her former home of Colorado that supported milk delivery, including delivery trucks and vintage coolers. She saw the potential for Briar Chapel to have the same quaint atmosphere.
"All we needed was some adorable milk delivery to add to that nostalgia. I also just love Maple View Products, going out to the ice cream shop in Hillsborough and sitting out on the rocking chairs and front porch, eating my butter pecan in a waffle cone and looking out onto the idyllic farm," said Rebecca. "It seemed perfect to combine these two things."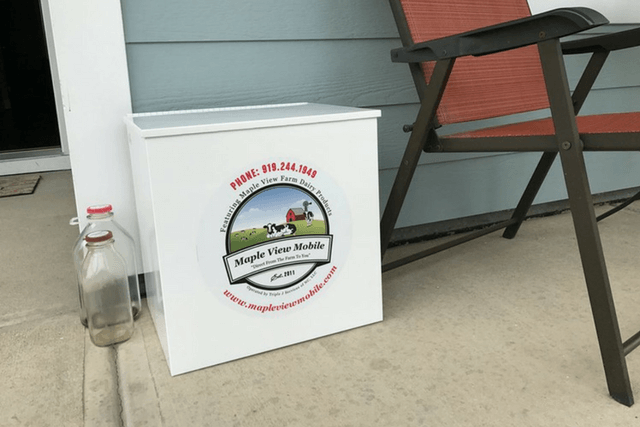 Sustainable and Delicious 
If you want to place the same order weekly, you can be charged automatically, which leaves you with the simple task of setting out the milk box, whether it's a cooler or a box purchased from Maple View. You have to be present for deliveries only if you order ice cream.
Arnold Tijerina, a Briar Chapel resident, has been a loyal Maple View client since he moved to North Carolina four years ago. When the home delivery service began, he saw the value in the service and how it aligns with Briar Chapel's commitment to sustainability.
"They provide and make it convenient for residents to purchase farm fresh produce and fruit and, in the same spirit, Maple View's service now allows residents the opportunity to buy farm-fresh dairy products," said Arnold.
Whether it's a cold glass of milk, some farm fresh butter or a spoonful of ice cream that you're craving, now you can have it all right at your doorstep, so try it out now!
To learn more about their services or sign up for home delivery, you may reach out to Maple View Mobile at 919-244-1949 or visit https://mapleviewmobile.com/